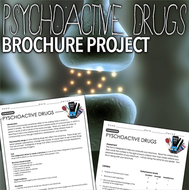 Psychology: Consciousness - Psychoactive Drugs Project
Drugs that affect states of consciousness are called psychoactive drugs. This psychoactive drug brochure project gives students an opportunity to research psychoactive drugs and their effects on the brain. Included is a research guide and rubric for a brochure that will focus on one of the three psychoactive drugs, depressants, stimulants and hallucinogens. You assign the category, or students sign up(a sign up sheet is included). Product includes a PDF and an editable Microsoft Word document for customization for your class.

More stuff on the way! Follow me to be the first to know about new products! Also, follow me on Pinterest at Psychology TpT Store or at Psychology Lesson Ideas!
Read more