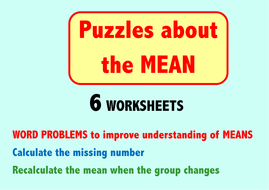 Puzzles about the MEAN
Three pairs of worksheets with answers that are designed to help students understand the use of the mean as an average when data is added or removed from the calculation.

e.g. the mean weight of 5 people is 70 kg. Another person joins the group and the mean is now 71kg. How much did the sixth person weigh.

A lot of students find it hard to see that if you know the mean of a set of numbers and how many numbers there are then you can find the TOTAL of all the numbers. These questions will make them think about how they can use this idea.

GCSE DfE references S4, N2

For more resources like this please visit the SKILLSHEETS Shop
About this resource
Info
Created: Dec 7, 2015
Updated: Feb 22, 2018
Other resources by this author
Practice factoring quadratic expressions. Nine pages of questions where the answers have to be filled in. Includes examples where the coefficient o...
Skillsheets
8 worksheets that show what is meant by the slope of a line and how to work it out using a triangle. Draw and use the equations of straight lines i...
Skillsheets
Over 20 worksheets of simple activities involving money that are illustrated and designed for use mainly with adults and teenagers. Choose the righ...
Skillsheets
Popular paid resources
The pupils have to tally red, blue, green and yellow cars as they fly past in the presentation. This has proved a popular resource at both schools ...
Smeths
I created this code breaking maths lesson for an Ofsted observation. The children thoroughly enjoyed it and had so much fun (whilst still learning)...
jodieclayton
Featured in the TES Newsletter. Adventure game in which students answer probability questions in order to rescue a princess. PLEASE REVIEW / COMMEN...
kmbheck
Updated resources
Designed for Year 4 LA, ARE, HA Includes MO activities and investigation
Rkmarshall1
This carefully selected compilation of exam questions has fully-worked solutions designed for students to go through at home, saving valuable time ...
Maths4Everyone
This workbook has detailed solutions and is great for revising Probability Trees. Click 👉tes.com/.../workbooks to download workbooks on other topi...
Maths4Everyone