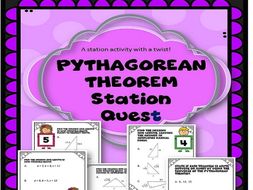 Pythagorean Theorem Station Quest
A station activity with a twist! Students use the pythagorean theorem and the converse of the theorem in this 9 station activity. Students who correctly solve the station problems will receive the piece of the quest puzzle. Once all 9 stations are finished, students assemble the 9 piece puzzle and solve the final problems.

Students love this activity. This can be used with or without the additional puzzle.
Read more