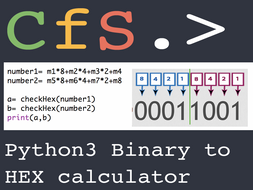 Python3 Binary to HEX Calculator
A differentiated binary to HEX calculator that takes students programatically through the process of splitting an eight bit number into 2 *4 bit nibbles, then converting the digits to a letter if they are above 9. Aimed at GCSE and A level OCR and AQA Computer Science but could also be used at KS3. Uses function, casting to integer and string manipulation.

A great excuse to do some problem solving programming in Python that can supplement and extend students knowledge of both Python and HEX. Can be used after studying programming techniques with other materials I have produced for HEX.
Read more