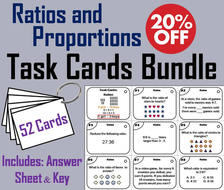 Ratios and Proportions Task Cards
These ratios and proportions task cards are a great way for students to have fun while they practice their skills with problems of ratios and solving proportions. This product includes an answer sheet and an answer key.

These lessons sell individually for $5.10; as a bundle they are 20% off, for $3.95!
Read more