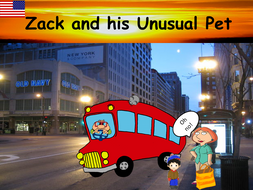 Reading Comprehension, Sentence work, Prefix -UN & Past Tenses- Presentation/ELA Plans & Worksheets
This product contains a short reading text on PowerPoint for whole class reading and comprehension questions.
Lesson Plans and differentiated worksheets/tasks.

Aimed at and suitable for Kindergarten/Grade 1 and ESL students.

This resource can be used in whole class and group setting and for one-to-one teaching.

The Learning objectives and outcomes are in each lesson plan 1-5.

English Language Arts lesson plans for 5 days focusing on the text.
- Reading comprehension questions - listening/speaking and reading/writing
- Scrambled sentence activities - differentiated tasks involving capitalization and using end punctuation.
- Word work focus on the prefix 'un' - making new words and gap filling exercises.
- Grammar work on the simple past - regular and common irregular verbs.
- Answer sheet for worksheet 1 and self-correction sheet for worksheet 2 (Lesson 4)
- Writing sentences
- Composition - Writing a story based on Zack's Unusual pet
- Opportunity for computer work/non-fiction work on finding information about animals not usually kept as domestic pets.
- Worksheets and activities - differentiated.

There is a Past Tense Verb Table for information/visual display for printing off in PowerPoint. Displaying regular and irregular past tense verbs.

Resources editable and printable.
Lesson 1 Story narrative is in pdf.

File Type: Word, PowerPoint and an pdf worksheet.

All images used are in the public domain: openclipart, Microsoft clipart, www.clker.com, www.morguefile.com.
Read more