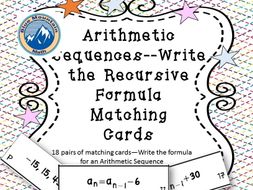 Recursive Formulas in Arithmetic Sequence Matching Card Set
Students gain proficiency at identifying formulas for Arithmetic Sequences with this matching card set. Students work in pairs or individually to match sequences to their specific recursive formula.

Included are 18 pairs of matching cards, one side has a sequence of numbers and the other half have recursive formulas. Matching cards can be used in a variety of ways, use as flash cards, as exit tickets, or as a game of war or concentration.
Read more