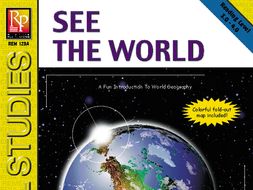 See the World: Reading Comprehension & Mapping Activities
From Australia to Zambia and beyond - your students will love discovering fascinating facts about faraway places while they improve their reading comprehension and geography skills. Students zero in on specific areas of the world as they use the colorful, 11x17" map (included) and a variety of other maps to learn about other lands.

Skills emphasized in this book include: recognizing that a map is a symbolic representation of all or part of the earth, using a legend or key, using symbols and patterns to interpret features, using terms of direction (far, near, above, below, etc.), using cardinal directions (north, south, east, west), and much more!

Read more