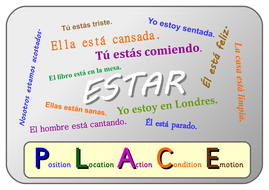 Ser and Estar Poster Set. One A3 Poster for each verb.

Subjects
Spanish
Grade Levels
3rd, 4th, 5th, 6th, 7th, 8th, 9th, 10th, 11th, 12th, Higher Education, Adult Education, Home-school, Staff
Resource Types
Posters
PRODUCT DESCRIPTION

These posters are a great visual aid to reinforce when and why to use one verb or the other .
Two A3 Posters plus an extra Set in a different color .


Read more
About this resource
Info
Created: Mar 6, 2016
Updated: Feb 22, 2018