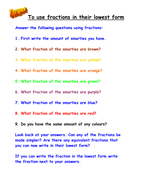 Smarties Fractions Investigation
A fun activity teaching fractions using smartie tubes which can be extended to work on statistics by using tally charts and bar charts/pictograms/pie charts
About this resource
Info
Created: Apr 18, 2017
Other resources by this author
A simple self/teacher assessment of success criteria for how to make inferences when reading. Can be edited to suit different abilities within diff...
loulibby80
Both elements for teaching the lesson on writing a character description of Mr Willy Wonka including the PowerPoint, character cut out and chapter ...
loulibby80
3 Resources

25% off

$6.74

$

5.05
Three lessons that can be taught alongside Charlie and The Chocolate Factory including Character description of Augustus Gloop, Freeze frame activi...
loulibby80
3 Resources

25% off

$13.47

$

10.10
Popular paid resources
The pupils have to tally red, blue, green and yellow cars as they fly past in the presentation. This has proved a popular resource at both schools ...
Smeths
I created this code breaking maths lesson for an Ofsted observation. The children thoroughly enjoyed it and had so much fun (whilst still learning)...
jodieclayton
Featured in the TES Newsletter. Adventure game in which students answer probability questions in order to rescue a princess. PLEASE REVIEW / COMMEN...
kmbheck
Updated resources
Three worksheets with a very thorough consideration of the outcomes that occur in typical questions on this topic. These sheets have been really he...
Maths4Everyone
This carefully selected compilation of exam questions has fully-worked solutions designed for students to go through at home, saving valuable time ...
Maths4Everyone
Probability lesson based on LEGO Superheroes. Students were extremely engaged by the activity, and the lesson was really enjoyable. Included: Lesso...
missjhross