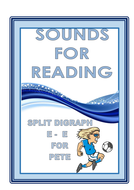 SOUNDS FOR READING SPLIT DIGRAPH E - E
This SOUNDS FOR READING resource consists of 20 worksheets to teach and/or reinforce the split digraph e - e sound. There are opportunities for learning new vocabulary, practicing words and writing sentences using the split digraph.



This resource is particularly useful for TA's who need extra work for one to one sessions.
About this resource
Info
Created: Feb 11, 2015
Updated: Feb 22, 2018
By adding a School licence it allows you to share this resource with colleagues at your school. Without it, this resource is licensed for use only by you. Read licence details