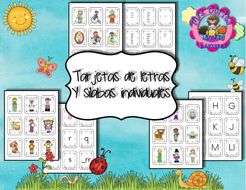 Spanish Alphabet Mini-Cards Set
- 33 alphabet mini cards to support Spanish instruction in your classroom.
- Perfect for literacy centers.
- 2.25" x 2.88"
- Students can easily use these alphabet cards as reference using a letter- related picture.
- Each card includes syllables formed with each individual letter.
- Includes three different sets: * Syllable cards
* Lowercase letter cards
* Uppercase letter cards
- Ready for two sided printing.
- 99 letter cards.
Read more