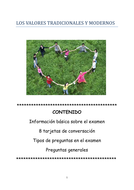 Speaking cards and general questions Los valores tradicionales y modernos (AQA)
"A great resource for the price of a sandwich!"

This is a booklet with stimulus cards, question starters and general questions on the topic "Los valores tradicionales y modernos" aimed at and tailored for students. It is based on the AQA board and the Oxford University Press AS textbook.

The booklet contains a summary of the exam structure (separately for AS and AL), eight sample stimulus cards, questions starters and general questions on the subtopics. I have also included the source of the material in many of the stimulus cards, so that students can do extensive reading on the topic. The resource can be used in class or to set homework.

I have created this booklet as there are only a few stimulus cards in the AQA site and as a teacher I need more resources than these to practice in class. Also, the type of questions in the new oral exam is very different to the old: they require a more precise response to the card, they test their knowledge of the culture and society and they are generally more challenging! I hope this resource helps teachers with their workload and it gives students an opportunity to practice and prepare for the exams.

I welcome any feedback on this resource, either on this site or privately at: bgp@stbrn.ac.uk.
You will find more cards in TES for units 2, 3 and 4.

Thanks for your support.
Read more