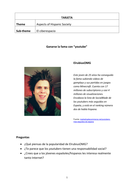 Speaking cards, general questions and statements El Ciberespacio (AQA)
This is a second instalment of stimulus cards and general questions for the preparation of the oral AQA exam (the first instalment, for Los valores tradicionales y modernos, was also published via TES ).

This 15 page booklet includes a very brief description of the exam and the mark scheme for the first part of the exam. It has 8 stimulus cards with question types similar to those in the exam, general questions on the three subtopics and two pages of stretch and challenge statements that can be used for oral or written responses.

I have not included a list of questions starters, which I included in the booklet on Los valores tradicionales y modernos, as I would not want you to buy the same content again. I did however think it necessary to include a brief description of the exam structure and mark scheme so that your students have a quick reference guide.

I hope you like the work and it makes your teaching easier. I welcome any feedback at this site or privately at: bgp@stbrn.ac.uk. Many thanks for your support.
Read more