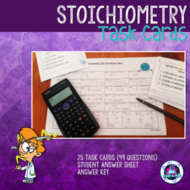 Stoichiometry Task Cards
Perfect for review work!

Set of 25 Task Cards on Stoichiometry. Most cards have multiple questions (49 questions in total).

Includes questions on
* Molar mass
* Number of particles
* Moles
* Empirical formula
* Percentage composition
* Gas volume
* Concentration

Student answer sheet & Answer key included.
Read more