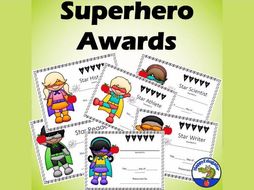 Superhero Award Certificates - End of the Year Awards
Your kids will be proud of their superpowers with this editable superhero award set for the end of the year. The set includes four different boys and four different girls for each award. There is an end of year award for each of the following:
Star Reader
Star Writer
Star Historian
Star Scientist
Star Athlete
Star Artist
Star Musician
Star Citizen
Just fill in by adding text boxes above the lines and typing in name, date, and teacher. This way you can use your own font and style for the lettering. There is also a blank award certificate for each style so you can put in your own words by just adding a textbox and typing in what you want. Your little superheroes will love these, and so will their parents.
Read more