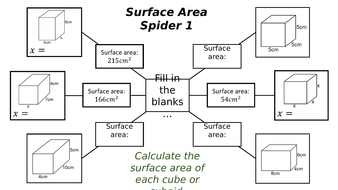 Surface Area and Volume Spiders
Six spiders on surface area and volume (3 of each) and a final "problems" spider. They are of increasing difficulty, moving from cubes and cuboids to prisms to cones, spheres and pyramids. These are designed to avoid students getting into a rut of performing a mathematical recipe by asking a mixture of finding surface area/volume to working backwards. These usually encourage discussion in class.
Read more
Report a problem
Creative Commons "Sharealike"