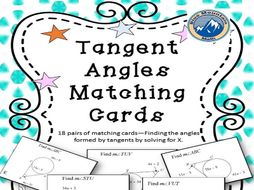 Tangent Angles--Solve for x Matching Card Set
Students solve angles formed by tangents to circles in this matching card set. Included are 20 pairs of matching cards, half with the picture of the circle with angle identified and the other half has the angle measure. Students use their knowledge of circle/tangent theorems to identify parts, set up the equation and solve for x and then substitute that solution to find the measure. A great challenge for student who need it.

Cut apart and use for a single student or pair of students. You can use to pair up students for other activities. You can also use these cards as a ticket in the door or ticket out the door. Additional uses for these cards are explained in the directions or download my free resource.
Read more