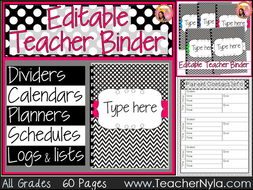 Teacher Planner 2018-2019 Editable Black and White
Editable Teacher Planner 2018-2019 (black and white) binder. This planner that will keep you prepared for all your daily, weekly and monthly classroom planning. Have all of your important records in one place. For the inside pages of the planner, it has either chevron or striped pastel colors at the top of each page as a fixed image. All text, tables, and calendars are fully ✍ editable. You can type directly into it, save your changes, and print. Please make sure that you have Microsoft PowerPoint (not PowerPoint viewer). 60 Pages.
This file will be updated each year (including the calendars), so if you own it, you will enjoy a new version for each school year (by following me, you will get notifications to download the new set for the following school year).
This binder has:
Editable cover sheets/page dividers
Spine Covers in 1", 1½" and 2" widths
Birthday List for each month
2018 Yearly calendar
2019 Yearly calendar
2018 – 2019 Editable Monthly calendar pages
Daily Schedule
Weekly Lesson Plan Template
Weekly Schedule
Parents' Phone Numbers
Parents' Contact Info
Subject Performance
Subject Stars
Class Timetable
Parent Teacher Conference Log
Passwords List
Notes
Class Lists
Blank Student Lists
Field Trip Lists
RTI Logs
Student Information Sheet
To do List (checklist)
and more…
Read more