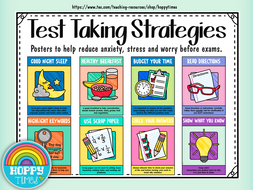 TES PICKS
Test Taking Strategies (SATs exam stress)
Help reduce your students' stress and anxiety before SATs, exams or other tests with these Test Taking Strategies posters.
8 Posters included:
Good Night Sleep
Healthy Breakfast
Budget Your Time
Read Directions
Highlight Keywords
**Use Scrap Paper **(I have also included a similar poster that says "scratch paper" instead of "scrap paper")
Check Your Answers
Show What You Know
The posters can be printed and laminated for durability. They would work best as a class display. The posters could also be helpful to SEN students who sometimes struggle the most.
The posters are in .pdf format and not editable. However, if you need anything changing, please drop me an email (my email address is on the last page of this resource).
Thank you for your interest!
Hoppy Times
About this resource
Info
Created: Mar 13, 2018
Other resources by this author
30 Revision Maths Challenges for KS1 end of year. Topics covered : measurement, time, money, shapes, basic fractions, place value, bar chart readin...
hoppytimes
KS2 Science PowerPoint Lesson and worksheets on parts of a flower, pollination and fertilisation. This is the fourth lesson in a series of Year 3 S...
hoppytimes
The opticians role play kit includes: Opticians Role Play word cards Opticians Role Play posters Opticians Role Play label cards (eye drops, ophtha...
hoppytimes
Popular paid resources
This is a hugely popular revision tool for the Y6 Reading SATS test! Get ready for the 2018 KS2 reading assessments with this SATS Question Generat...
KS2History
This excel spreadsheet can be used to record student's grades. Using a 1-10 system you can record their marks and it will automatically average the...
InformingEducation
Bundle includes: Bean to Bar. How is Chocolate Made - An Assembly Charlie and the Chocolate Factory: A Class Assembly (30+ parts) Charlie and The C...
ChrisWat
5 Resources

15% off

$13.46

$

11.44
Updated resources
Brand New End of Summer 2018 Quiz. My students loved this quiz - particularly the headline writing and music intros round! 5 rounds of general know...
Best_Newcomer_2009
This is a great one-off literacy activity and a wonderful teamwork project to help your class work together to make a class poem. In this transitio...
KS2History
A transition day essential! This is an ideal project for getting to know your new class. Make an 'All About Me' time capsule envelope to seal up an...
KS2History