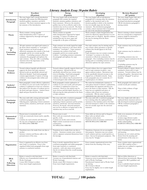 The Literary Analysis 10-POINT RUBRIC for Clarity and Success
This is a rubric for a Literary Analysis that breaks down the points into 10 specific skills, including introduction/ conclusion paragraphs, thesis, topic sentences, textual evidence, analysis, style, organization, grammar, MLA, and following directions. I have assigned point values to each of the skills (which you can change according to your students' needs). This rubric is very comprehensive and provides explicit feedback for revision purposes without your having to write substantial notes throughout the essay-- all you need to do is circle away. This is an excellent rubric that you can adapt for your classroom purposes.

Side note: As a rule in my classroom, I approach writing as an ongoing process. That means that after students turn in the "final draft," I allow my students to revise/ rewrite and resubmit the essay for a maximum of half the points back to 100. That means, if their initial score was a 70, for example, they can revise/rewrite and resubmit for a MAXIMUM score of an 85. I know this sounds very tedious; however, I give out explicit directions for resubmission, and any deviation from those directions disqualifies the essay for resubmission. Mainly, I require that students turn in the original essay with original rubric and the new, revised copy with all new changes highlighted. This way, I can simply check to see if they revised/ rewrote sections that needed further attention. In this way, my grading philosophy entails that I grade for quality on the first submission and effort on the second revision. It is in this way that I can communicate to my students that writing is a skill and an art that takes practice and that I do not expect perfection (because who's perfect?); instead, I expect effort, and I expect growth. Give it a try and see what happens!
Read more