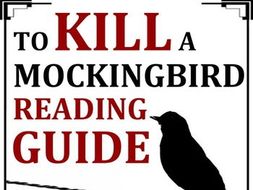 To Kill a Mockingbird Reading Guide
This comprehensive, 29-page To Kill a Mockingbird reading guide promotes active reading, reading comprehension, vocabulary comprehension, plot recall, character analysis, quote analysis, an awareness of historical context, and more. A complete key is included.

The guide is grouped by chapters. Each section includes a vocabulary section, requiring students to define potentially challenging words. Additionally, each section includes a series of plot-based questions and features meaningful quotations, which require an articulation of context. Finally, each section identifies several aspects of the assigned reading which students should review post-reading.
Read more