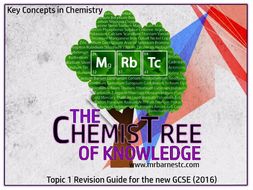 Topic 1: Key Concepts in Chemistry 2016 GCSE
This is a 100 Page revision guide focused on the new GCSE. It caters for Edexcel, OCR and AQA.

It contains the following:
1. The Outcomes
2. Revision Video links -made by myself - for EVERY outcome for the topic
3. Revision material for every topic 1 section
4. Practice questions for every topic
5. Mark schemes for all of the questions
6. Key Knowledge Checks for each topic - with the basics that will get a grade 4/5.

The topics included in Topic 1 are:
A. The Atom
B. The Periodic Table
C. Ionic Bonding
D. Covalent Bonding
E. Types of Substance
F. Calculations Involving Masses


If you want more information, visit my website at www.mrbarnestc.com for some samples/examples and videos.

The sub-topics can also be bought separately. Search for the topic titles above if you just want a certain topic.

There is also a bundle with the whole topic as both individual topics and the whole booklet - so you can print what you want for use in your class.

This resource is a great revision material, as well as a work book to be used during first phase teaching.

I hope it helps!
Read more