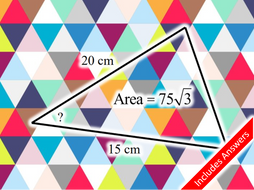 Trigonometry, Pythagoras, Sine Rule, Cosine Rule
Perfect for top-end GCSE or A level/GCSE consolidation. Here's a well laid out task consisting of 20 questions, being 4 questions based on each of;
Pythagoras
Standard right-angled trig
Sine rule
Cosine rule
Sine rule for area.
As well as a couple of straightforward questions there's also real clanger or two of a question in each section. This will keep students busy for a full lesson. Answers included.
Tried and tested, and corrected(!), in the classroom many times. This download includes a pdf file as well as the original powerpoint file for easy editing.
Read more