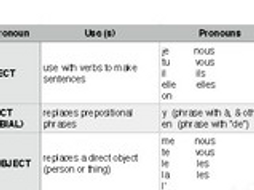 Types of pronouns - big picture
Oftentimes, students get confused about the different types of pronouns. In this document, you will find the following types of pronouns listed in a chart with some examples for each type: subject, object (adverbial), direct object, indirect object, reflexive, disjunctive, possessive, demonstrative, relative and indefinite.

This chart is useful for tutoring students, as well as for the whole class to use as a reference.
Read more
About this resource
Info
Created: Apr 24, 2017
Updated: Feb 22, 2018
Get this resource as part of a bundle and save up to 31%