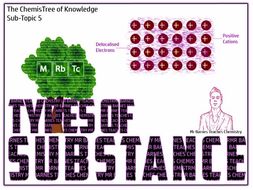 Types of Substance GCSE 2016 Revision Guide
Mr Barnes Teaches Chemistry

This is a revision booklet aimed at the new 2016 Science GCSE.
It covers everything the students need to know about the atom, including:
1. How to draw covalent bonds
2. Properties of simple covalent molecules
3. Properties of metals and non-metals
4. Giant covalent compounds and allotropes of carbon
5. Polymers
6. Limitations of models
7. How to classify substances as ionic, covalent or metallic.

It contains:
A. Outcomes for the GCSE,
B. Video links which contain information, questions and model answers,
C. Revision notes which have been written by myself, specifically for the course
D. Practice exam questions
E. Model answers


This is designed for Edexcel but covers all aspects of AQA and OCR Chemistry.

I hope you find it useful!
Read more