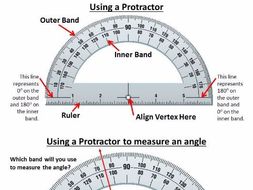 Using a Protractor Guiding Worksheet
Using a protractor to measure angles

Geometry
Common Core 4.MD.C.6
Common Core 7.G.A.2

No prep! Ready to print for student practice.

Page 1 of the document (front) reviews the important parts of a protractor and how to use it to measure an angle.

Page 2 of the document (back) provides the students with 8 practice problems for using the protractor to measure angles.

Answer key provided.
Read more