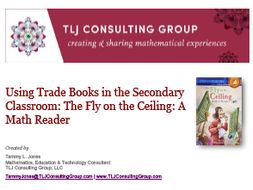 Using Trade Books in the Secondary CR: The Fly on the Ceiling: A Math Reader
Perfect resource for RtI/Intervention, small group instruction, or learning stations. Incorporating literature into the mathematics classroom at any level can increase student engagement, as well as support ELL/ESL students.

Contains 12 pages with over 15 assorted activities, A MUST HAVE book for all secondary teachers. Several activity sheets and blackline masters are included as well as tables identifying keywords, topics, and suggested manipulatives.

Book not included.
Read more