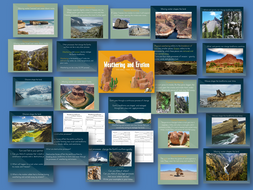 Weathering and Erosion PowerPoint and Interactive Student Notebook Lesson
This 26 slide PowerPoint presentation and student guided notes addresses how the Earth's land-forms are shaped and reshaped through both slow and rapid processes. This lesson describes the basic differences between physical weathering (breaking down of rock by wind, water, ice, temperature change, and plants) and erosion (movement of rock by gravity, wind, water, and ice). Students will be provided with examples of how physical weathering and the erosion processes change Earth's surface (constructive and destructive). This PowerPoint uses stunning photographs that I have either purchased or taken myself.
This lesson meets the 4th grade standards (NGSS: SC.4.E.6.4: and Common Core Standard: 4-ESS2-1). However this standard is tested on the annual 5th grade benchmark state exam. If you are a 5th grade teacher, use this lesson to review for your 5th graders.
Read more