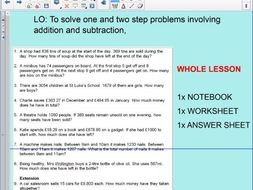 Whole Lesson - multi step word problems - addition - subtraction - KS2 - Year 5 – 6
This resource will help you to teach the following Learning Objective:

LO: To solve one and two step word problems involving addition and subtraction.

This resource is suitable for 1 lesson. Preferably for Year 5 and 6.

It includes:

-1 Worksheet
- 1 Answer sheet to save a teacher some time during marking
-1 SMART Notebook for teacher input - The Notebook includes a quick starter , warm-up (multiplication wheel) and several questions based on the LO.

**Please note that these resources are made by me, a teacher whom is still active in the classroom :) **

Please do provide reviews if you can as it will be vital for me to improve future resources. Thank you in advance.
About this resource
Info
Created: Sep 26, 2016
Updated: Feb 22, 2018