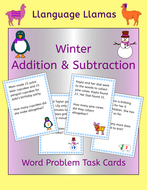 Winter Addition and Subtraction Word Problem Task Cards
This set of 28 addition and subtraction word problem task cards with fun winter graphics is perfect for practicing 1 and 2-digit addition and subtraction. The record sheet contains a space for students to write the equation and show the answer.

This winter math set can be used as part of a Math Center, a whole class activity such as Scoot or for independent learning and fast finishers.

The set is provided in color but also photocopies well in grayscale.

The set comprises:
* 14 winter addition word problem task cards
* 14 winter subtraction word problem task cards
* Record sheet
* Answer key

The cards are mixed up so the students cannot predict which operation to use.
Read more