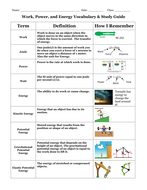 Work, Power, and Energy Vocabulary and Study Guide
This is the study guide I use with my students as they prepare for their unit test. The vocabulary includes a space for students to write the definitions as well as a space for them to draw a picture, write an example, or anything else that helps them remember. This is followed by work, power, kinetic and potential energy review questions. Full answer key work solved out and explanations included. Study guide including vocabulary is 4 pages long.
Vocabulary review suggestion - print out single sided. Put numbers on the back to match up the word and the definition. Cut out and play matching!! (Numbers allow students to check their matches).
Read more