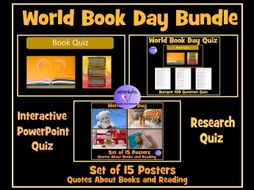 World Book Day: Bumper 100 Question PowerPoint Quiz, 108 Question Research Quiz and 15 Book Quote Posters
This bundle contains

100 Question Interactive PowerPoint Quiz

This resource is a highly visual, fully editable and interactive, 100 question powerpoint quiz on books, poems and authors. It is an ideal resource for World Book Day and can be used with a tutor group or in an assembly.

The quiz contains 100 questions with multiple choice answers, with varying degrees of challenge. It has nine categories, classic books, Harry Potter books, opening and closing lines, David Walliams books, authors, Michael Morpurgo books, poems, diaries and miscellaneous.

108 Question Research Quiz

This resource contains a 108 question paper-based quiz on a variety of literature and genres -books, poems and authors. Although pupils may be able to answer some of the questions, the quiz has been designed to encourage pupils to research the answers. It could be used in a variety of ways - in class, for competition purposes and / or for homework. It could be undertaken individually or as part of a group.

Set of 15 Book Quote Posters

This resource includes a set of 15 posters containing quotes about books and reading. These posters can be used for display or discussion purposes.

Purchased separately these resources would cost £9. Save money and buy the bundle for just £3.99. That's a massive saving of 56%!

For more inspiring educational resources visit Inspire and Educate

Thinking of publishing your own resources or already an author and want to improve your resources and sales? Check out this 'must have' step by step guide.

How to Become a Successful TES Author: Step by Step Guide

To be kept informed of new resources click here and follow!
Read more
About this resource
Info
Created: Feb 24, 2017
Updated: Jun 18, 2018