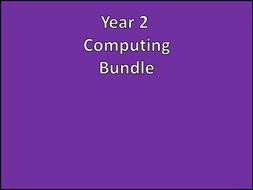 Year 2: Master Computing Basics Bundle
A huge amount of resources for individual or Interactive Whiteboard use for Year 1 children. Gain confidence with easy to use, drag and drop resources across a variety of topics including a whole unit on Coding!
Other resources by this author
A step by step picture guide of how to build the Arc De Triomphe in Sketchup. Ideal for beginners as young as year 3!
martinjgoulden
Love the idea of clay but remember how messy it was last time? These several, step-by-step picture guides teach you the basics of a computer progra...
martinjgoulden
Fully resourced, perfect for Year 1 upwards, teaching the children the very basics of Computing in an interactive and fun way!
martinjgoulden
Popular paid resources
Entire unit of work for the theme "Natural Forms". Suitable for KS4, particularly year 10. This unit will run over 6 school terms. The unit include...
Piper-maru
A Scheme of Work to introduce pupils to the art of Manga
jono1701
Abstract colouring worksheets. Sketchbook ideas. Lichtenstein, Warhol and Kandinsky Inspired art activities.
artact4kids
Updated resources
Mark Rothko quotes - on his abstract painting and artistic life in American art for pupils, students and teachers in art Mark Rothko was a Russian-...
Matrozenhof
Joan Mitchell quotes, on her abstract painting art & artist life first in American Abstract-Expressionism, later in France for pupils, students...
Matrozenhof
Edvard Munch quotes, on his painting art, his early youth experiences and his artistic life for pupils, students and teachers in art Edvard Munch t...
Matrozenhof