5Uploads
8k+Views
32k+Downloads Inverted commas plan, PPT, worksheets (differentiated 3 ways) and videos for use in KS2. Based on The Lighthouse video (https://www.youtube.com/watch?v=6HfBbSUORvo) featured on Literacy Shed. I have used an app to make the characters talk in the PPT. Would be fine as a stand alone lesson but even better linked to writing on the video (I used it for the quotes part of a newspaper report based on the event). Please review, feedback welcome! PowerPoint, matching game and worksheets for apostrophes for contractions/omissions. Based around the book "Simon Sock" by Sue Hendra but could be used without the book. Used with this video too: https://www.youtube.com/watch?v=OyI8xH2CXsw Small sticker to put inside books in your school library. Teacher, TAs, caretakers etc. complete and then hide them in their favourite books for children to find. The idea is that the children then strike up a conversation with that adult about the book. Male and female version included. Number poster for children to demonstrate their understanding with partitioning, making the number in apparatus, writing it in words, putting it on a number line, writing it in words, drawing it etc. Template for adaptation plus 3 differentiated sheets. Made for Year 2 but easily adapted for other year groups.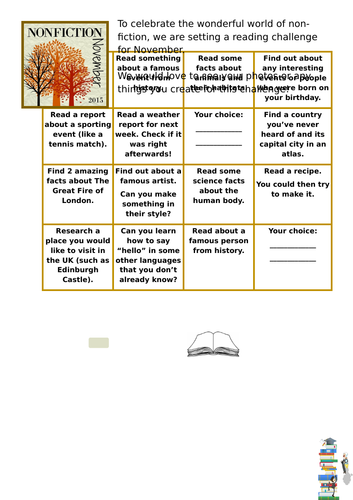 A reading bingo challenge with a theme of Non-Fiction November. Edit to make your own.