63Uploads
26k+Views
10k+Downloads
All things English!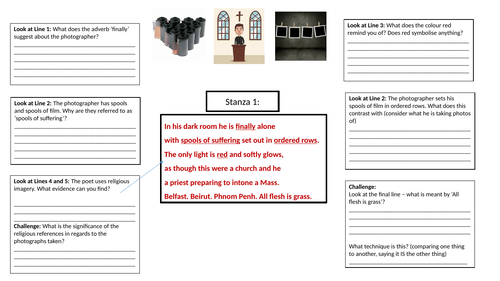 Worksheets for each stanza of Carol Ann Duffy's 'War Photographer'. Suitable for Mid- low ability classes, or a higher ability class, as a first response type activity. Activity mostly aimed for understanding meaning and imagery, as opposed to analysing language, form or structure.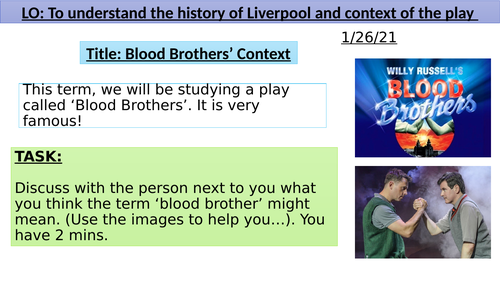 A complete lesson giving a comprehensive contextual background in preparation for studying the play Blood Brothers by Willy Russell. This would work for KS3 or KS4 first time study of the play or revision. Ares covered: Willy Russell Liverpool City Liverpool Culture Marilyn Monroe The Play Housing

Worksheets created to analyse the poem 'Poppies' by Jane Weir. Focus is on meaning and understanding, exploring the key imagery with lots of prompts and scaffolding to guide pupils. This has been created for LA pupils, where I am trying to steer away from simply identifying techniques and move further into WHY specific techniques/words have been used and what imagery it suggests. Resource includes: PRE-READING tasks: Context/Summary/Glossary page READING tasks: Each stanza broken down with tasks to explore the imagery and a challenge task to complete. POST-READING tasks: Deeper thinking questions; Lang techniques task; Themes based task; Essay style question.

Worksheets created to analyse the poem 'Remains' by Simon Armitage. Focus is on meaning and understanding, as well as analysis of techniques. I have found that my classes would identify techniques in a poem but not say much about them! In these worksheets, the techniques have been given to them (which will help with their understanding of a range of techniques - not the same ones time and time again that they seem to go for!), with questions aimed at analysis why the writer has used said technique, as well as further questions exploring specific language choice. i.e. why 'life', why not 'body'? etc. Also includes storyboard type images, to help with dual coding. If you like this resource, please check out my storyboard activities for this poem too: https://www.tes.com/teaching-resource/remains-storyboard-language-analysis-and-revision-tasks-12207507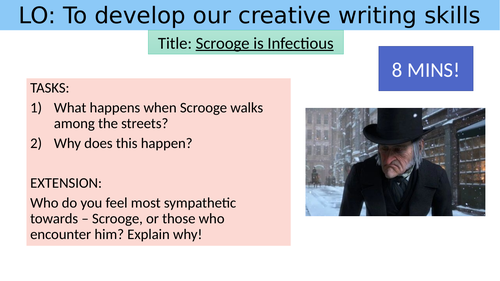 1 x creative writing lesson on ACC made for a cover lesson. Pupils to write a description based on the opening scene of ACC 2009 film, with an (implicit) emphasis on SHOW, don't tell.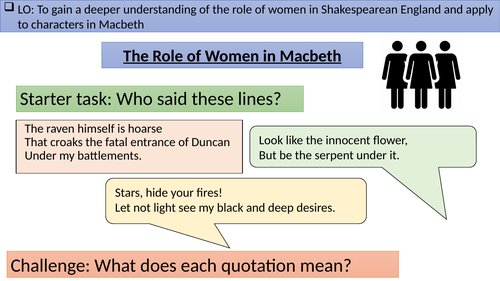 A powerpoint and two worksheets exploring the role of women in Shakespeare, with a specific focus on Lady Macbeth.

A lesson on the prologue in Blood Brothers, including the role of a prologue (generally), the specific role of this prologue (with reference to the play's cyclical structure) and what we learn. Suitable for first time study of the play.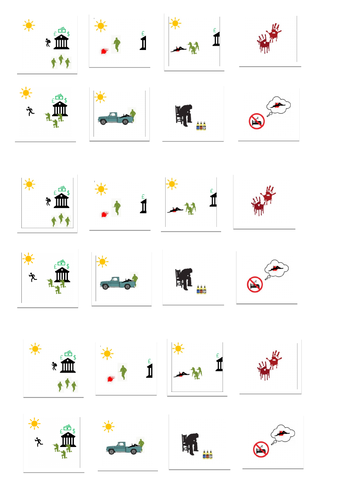 Included is a storyboard of the poem, with some instructions on how you could use for Yr 11 revision: pupils to put them in order, from memory see if they can write a quotation from the poem for each of the images, pupils then to check back with the actual poem and add any quotations where needed, then begin to identify and analyse language. I have also used the story board to teach first time round, especially with lower ability pupils to help them visualise the poem better. Also included, is a storyboard image sort & language identifying task which is an A3 sheet. It consists of a copy of the poem, with space for the images to be sorted and stuck in and a table which gets pupils to identify key language techniques in the poem. The table can easily be adapted to add more advanced level techniques for idenitification, but as it currently stands is suitable for low to mid ability.

This resource includes two articles on the topic of 'Elephants'. The powerpoint guides pupils to: Consider what is meant by the terms 'viewpoint' and 'perspective' and begin identifying from the texts Scaffolded paragraph as a first attempt. Model answers for EACH level in the mark scheme, for pupils to read and sort next to the correct level descriptor. Tasks to identify the differences between the model answers, getting pupils to identify what is needed to get their responses into the next 'level' on the mark scheme. Finishing with another scaffolded paragraph (to monitor progress), and a peer assessment task to engage with others work, as well as the mark scheme. PLEASE NOTE: I cannot take credit for the extracts, and apologies I cannot remember where I sourced them from (please do contact me if they are yours!). ALSO: This powerpoint is not set out into specific lessons however, I have used this PP with my year 11s (first time through the paper) and it took a weeks worth of lessons, to give you a guide.

An introductory lesson to explore the theme of Nature vs Nurture in Blood Brothers. Suitable for first time study of the play.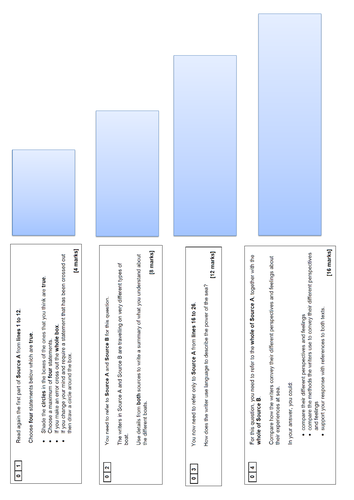 AQA 2019 Language Paper 2 DIRT tasks, section A: Writer's Viewpoints and Perspectives A series of lessons that reflect upon questions 2-4 of 2019 Paper 2, advising pupils where they may have missed marks and how to improve. AQA 2019 Lang Paper 2: 'The Crossing', an extract from James Cracknell and Ben Fogle's autobiographical account of crossing the Atlantic and 'Idle Days in Patagonia', an extract from W H Hudson's travel writing.

A lesson introducing the context for Seamus Heaney's 'Storm on the Island', one of the poems in the AQA Power and Conflict poetry anthology. This has been planned for use in a Yr 9 bottom set, but could be easily adapted. It includes a link to a 5 min video that explains 'The Troubles' as well as clear presentation slides that explains a (brief!) history of Ireland. The lesson was planned to be taught after the class had had an initial lesson or two, unpicking the key themes, ideas and imagery within the poem, with this lesson highlighting the importance and significance of context in shaping our understanding. In a nutshell, the lesson follows the lines of: what is context; here's some context; apply the context to the poem; what's our understanding now.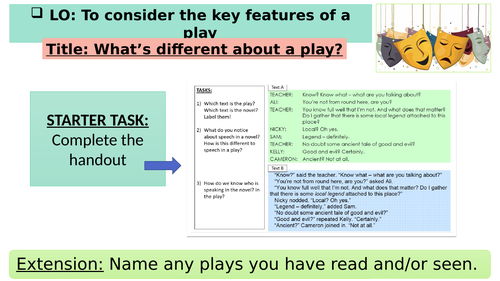 This KS3 lesson looks at they key differences between plays and other text types, including exploring format and layout differences, in addition to the terminology needed when analysing a play i.e. audience, dialogue, stage directions etc.

Bundle of a series of lessons on Blood Brothers to cover the whole play for first time study.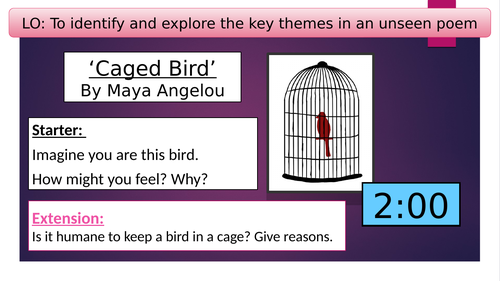 Whole lesson on 'Caged Bird' by Maya Angelou with resources, exploring the imagery and extended metaphor. There's also an element of looking beyond the initial 'top layer' meaning, and pupils are guided towards the extended metaphor. Can also be used with the focus of the role of context informing our responses, whereby pupils consider how understanding context of the poet enables pupils to identify the deeper meanings and the extended metaphor.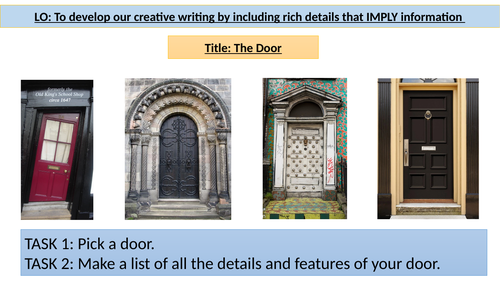 A set of 3 (potentially 4) lessons you could easily set as cover (as I have done so!) if a teacher is likely to be absent for a few days. Lesson 1: Implying information based on the image of a door. Lesson 2: Describing approaching the door (rising action / building tension) Lesson 3: The other side of the door (climax) Lesson 4 (optional): Neat write up of their 3 part description of the door 'for display' The lessons indicate that the writing should IMPLY, not state (i.e. my take on 'show, don't tell'), whereby certain rules are included such as 'you cannot use the word 'door'. Lessons include examples / models; scaffolding and success criteria; peer assessment tasks.

A practice / mock AQA Lang Paper 2 exam exploring the tradition of using black face paint as a disguise in Morris dancing. This paper enables pupils to engage with recent events and the renewed focus on systemic racism in our society following growing publicity and support for the Black Lives Matter movement. My aim of this paper is to address and create discussion about issues of racism in Britain, but from an unconventional / less obvious example. Section A: Reading Source A presents a 'celebratory' account of morris dancing in the 19th c. whereas Source B presents a critical and conflicted view in 21st c. Britain, exploring whether the tradition of using black face paint as a disguise in Morris dancing is now outdated and deemed racist. Section B of the paper continues with the controversial theme of 'blackface' with the statement: "From television shows such as 'Little Britain', and 'The Mighty Boosh', to traditional English Morris dancers: whatever their justification, black face is always wrong" PLEASE NOTE: Source B has been purposefully and carefully selected as it presents both the criticisms of black face paint as well as information of the traditional meaning and reasoning behind it. Thus, this should allow pupils to explore the spectrum of the issue and provides some background information to help guide the pupils' responses. Included in this purchase are the two sources and the question paper, in addition to a powerpoint presentation that includes example/model answers for questions 2-4, for pupils to mark against 'student friendly' skill descriptors, suitable for DIRT activities. Source A: A newspaper cutting describing a performance of Morris dancing (traditional English dance), 1886. Source B: A newspaper article reporting the criticism of Morris dancers by a London journalist, 31st December 2019.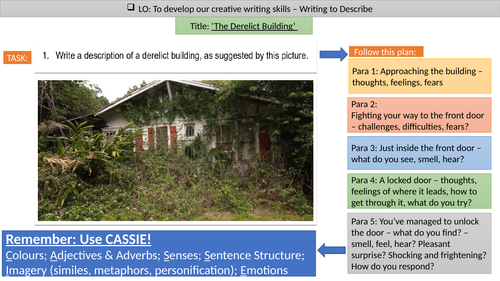 A 1 slide presentation, writing task - writing to describe with a narrative frame to guide the pupils.