10Uploads
629Views
84Downloads
Aquarelle Resources
This powerpoint offers a lesson's revision of the present tense. Bright design.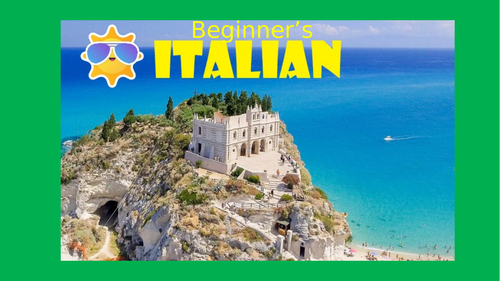 Italian introduction to greetings, numbers and months which leads into first homework task. Learning objective : To know basic greetings. To practice a conversation. To compare two conversations. Recognise numbers 1-10 (more for MATs) and to play a game before creating an informative spider gram which serves as homewerk framework. (As such the spider gram could be done on paper if not wishing to send books away) See my other resources for FREE provision of a range of mind maps which you can use for the spider gram activity here.
50 Straightforward time saving slides printable memory card game and PPT for advanced essay phrases in French. Personalisable Use for introducing less familiar French language phrases, revising phrases, learning phrases and printing as a card game. (Print as Handout - two slides per page. Students mix them up and peer assess memorisation of phrases…challenge to see how many go to complete pile and how many go back to try again!)
This lesson goes into the full depth of the present tense uses in a simplified way and in turn actually aids in improving student vernacular in English as a hidden extension to learning outcomes. Aquarelle presents a Two- and Three- stem verbs in the French Present Tense lesson as a powerpoint and Worksheet. Full lesson package. The lesson allows you to consolidate the use of subject pronouns, expand on the basics of present tense with the assumption the group already have some basic familiarity. Interactive elements, opportunities to translate, peer assess, discuss and acquire lots of useful phrases and vocabulary in both French and English which can springboard future writing pieces to be more varied from the beginning.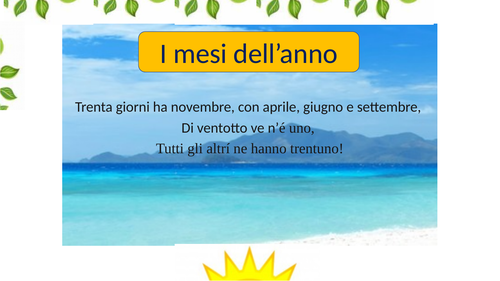 Based on already knowing or having access to numbers 1-31. This powerpoint revises the months and introduces Birthdays through conversation, writing tasks and peer assessment including slides for creating own success criteria and collaborating with others in pairs or groups. Includes starter and plenary and a puzzle and delivers a full lesson in Italian for the topic.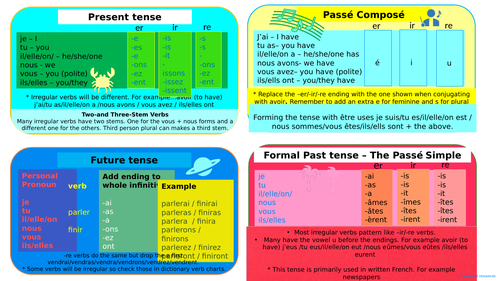 Set of 12 HD vivid and colourful revision cards covering tenses, modal verbs, adjective endings, essay phrases and writing improvements. Created to a high quality display that can be extended to the use as classroom displays, in books or mats that could be laminated for desks. *l'allemand disponible -page cameron languages - collaboration officielle pour cette ressource.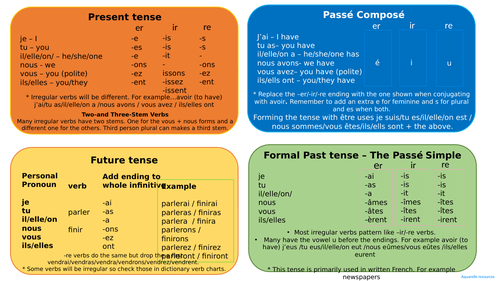 Set of 12 coloured revsion cards covering tenses, modal verbs, adjective endings, essay phrases and writing improvements. Disponible en Allemand . Cameron languages. En collaboration officielle pour cette ressource.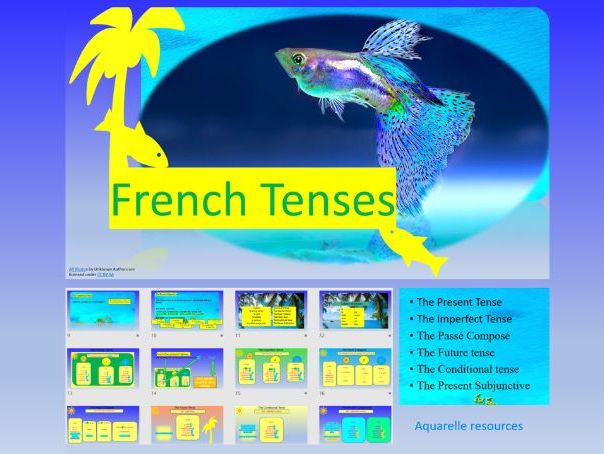 The French Tenses Subject pronouns Present tense Imperfect tense Passé Composé Future tense Conditional tense Subjunctive Overview Comparisons Relationships between tenses Formations of each tense Introductory/Revision or quick teacher reference
Ideal reading lesson for Holidays Can Assess levels 5/6 with questions to include those at level 4 and below and MATs wanting to try some level 7. Two sections + two modern and current texts combine to assess the comprehension of two holidays, one in Martinique to along the Canadian Glaciers of Northern America. Mes vacances en Martinique Ma promenade des Glaciers au Canada 2 Pages of text 3 Pages of Questions 3 Page Teacher's answers PDF Full lesson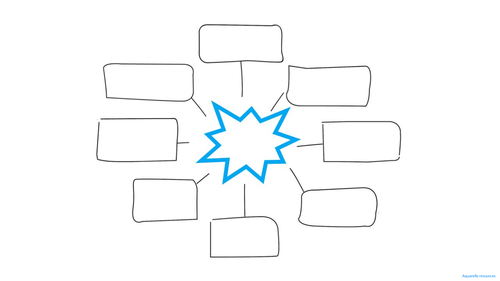 Multipurpose templates for mind mapping activities.