8Uploads
9k+Views
11k+Downloads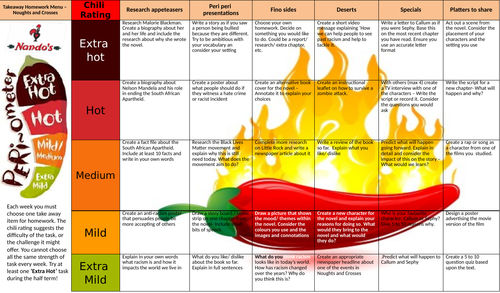 This is a full scheme of work for the novel Noughts and Crosses by Malorie Blackman. The scheme was designed for mixed ability yr 8 so covers all levels - the challenge levels are built within each lesson and may be good for year 9 too. We do AQA at KS4 and this scheme aims to introduce students to the type of questions they can expect to see when they reach this stage. The scheme takes context into consderation in preparation for the transition into GCSE and requires students to discuss some provocative and comtemoporary topics. The students responded incredibly well to this and were very passionate in their conversations. As the book is quite long, there are chapter summaries built in throughout. There are page numbers linked to the reading of the more essential chapters (These are taken from the black cover with rainbow coloured font). There is a Takeaway Homework to go with this scheme along with assessment lessons and BOOST lessons (or DIRT to some schools) The lessons have levelled outcomes and levelled challenges throughout. The scheme covers a variety of topics and covers many elements of SMSC in schools. There are 21 lessons and additional assessment lessons (These are floating so you may add them in when you need them). The lessons are titled as follows: Introduction Prejudice Quote Hunt Structure Freedom Fighters Little Rock Privilege Formal Letters Reading and Retrieving Lynette and Callum Tension IRA and Manchester Arena BOOST (DIRT to some- opportunity to improve marked assessment piece) The Trial Capital Punishment Jude's persusuaive techniques The Betrayal Summative assessment The Escape Finale Overview

This is the PPT is created for a display in my room. The PPT contains over 60 quotes that are colour-coded according to theme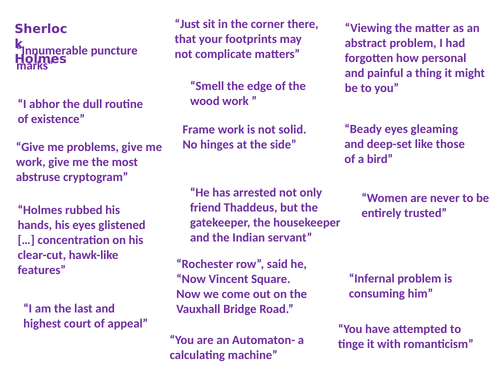 This is a display I made for my year 11s. The PPT contains a few images you could use but more importantly there are over 70 quotes that are colour-coded according to character. Enjoy!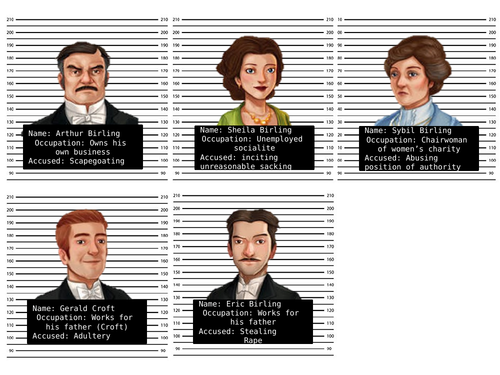 This PPT contains several thematic images and over 50 quotes colour-coded according by the following themes: Social Responsibility Class Structure Youth and the Older generations Gender Transgression My students have found the resources incredibly helpful and I have used it as a display for the classroom. Hope it helps! :)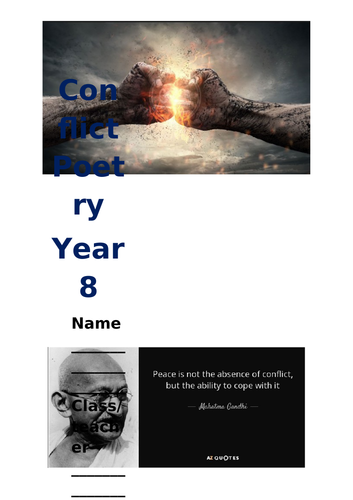 This is an anthology of poems for KS3. It was created for the scheme we did (which can be purchased from my shop) It contains some of the poems studied in the AQA Conflict cluster but many are additional to allow students a wider range and more provocative discussions.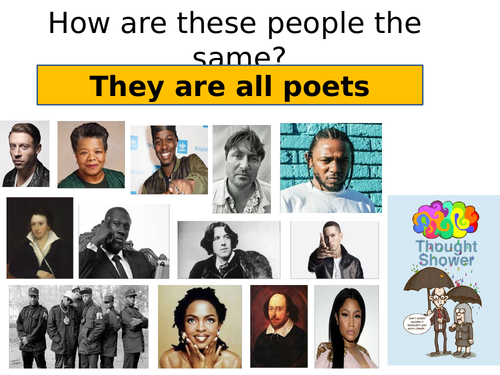 This a full scheme of work complete with Takeaway Homework and has an Anthology to go alongside (available free to download). The lessons have levelled outcomes and levelled challenge throughout and encourage students to consider a variety of forms of conflict, not just war. It has been created to lead into the Love and Relationships AQA poetry so makes use of many of the conflict poems. Students engaged incredibly well and enjoyed the conversations that arose. Some of the poems were quite provocative and you may need to decide which you want to keep e.g. Education for Leisure (which we swapped for Poison tree in the lesson) or Those Bastards in their Mansions. Lessons include a create your own sonnet Research the missing topics in Checking Out Me History - plus a lesson that has students deliver what they learnt. Lessons on the purpose and impact of a poem's structure and how changing this alters the meaning and reading of the poem. Hope you enjoy it!

I made this sheet for my year 12s to help them with addressing the unseen political protest extract. It's simple in places but helped them to organise their ideas and approach the question.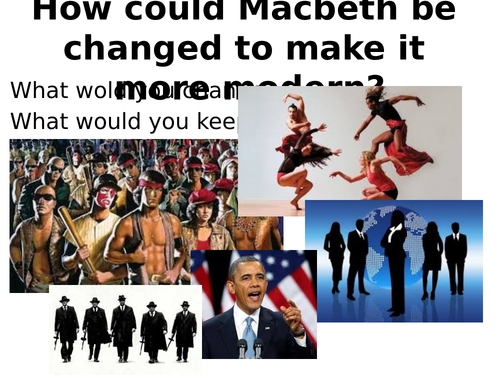 This PPT has several starter tasks that encourage students to think about the characters and themes within Macbeth. There is an activity at teh end that I set a class for cover; they produced some incredible posters! Enjoy :)