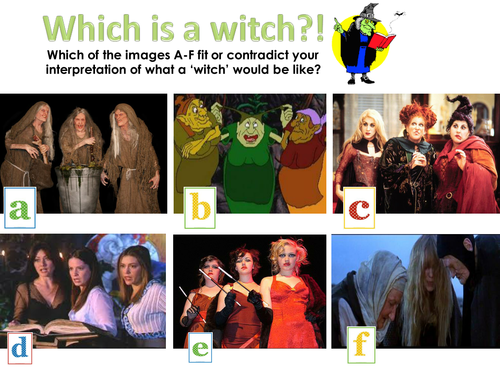 A complete lesson Powerpoint to accompany the reading of Act 1 scene 3. Considers what we expect from witches, Shakespeare's dramatic choices for developing their characters, as well as summarising what exactly it is that they predict for Macbeth and Banquo. Includes starter, reflective plenary, PEE paragraph practice, helpful vocabulary matching exercise and a homework task preparing for the next scene.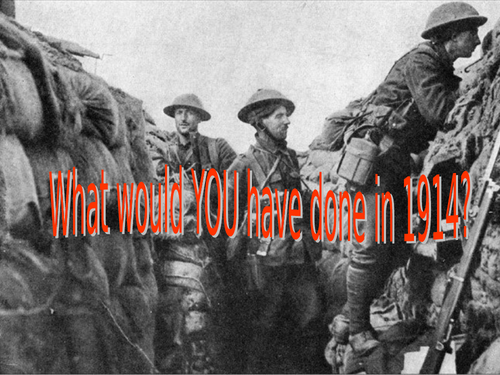 This interactive activity encourages students to place themselves in the footsteps of young soldiers during WW1, guiding them through the choices and key events that faced young men: from signing up right through to the war's end in 1918. It deals with key topics including conscription, conscientious objectors , trench foot and the Battle of the Somme. The powerpoint basically works like an educational version of the 'choose your own adventure' books! Students are given three 'choices,' each of which are hyperlinked to allow them to choose their own individual experience of WW1. Depending on time, you can let several different students play or play as a class by voting and going with the majority. I've used it many times throughout my career, as a contextual activity alongside teaching war poetry or Michael Morpurgo's Private Peaceful, as well as when teaching both Year 6 and Year 7 History.
A Powerpoint designed to accompany the reading of Keats' The Eve of St Agnes. Will fill 3-4 lessons alongside the reading of the poem. The 18 slide Powerpoint includes information and activities on: - context - structure - meaning - difficult vocabulary - language techniques - imagery - the ending of the poem The primary purpose is for students to understand the poem, with some questions specifically focusing on aspects of tragedy ready for the AQA A2 exam. I have also included an additional worksheet for once students have completed the poem, reflecting on tragic features.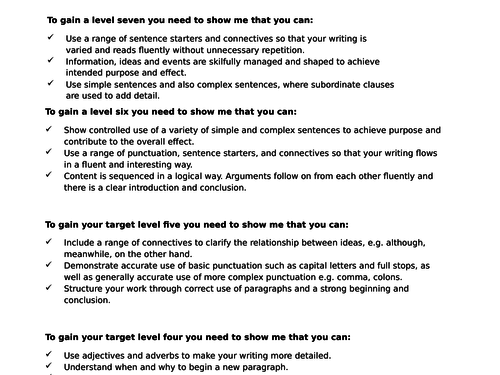 Mini Speaking and Listening/Persuasive Writing SOW designed for KS3 classes. Based around Dragons' Den and designing their own products and includes key persuasive writing techniques. Mini SOW: Lesson 1: Persuasive Techniques Lesson 2: Intro to pitching/what makes an effective pitch Lesson 3: Designing your own product Lesson 4-5: Writing your own pitch (Differentiated scaffolds provided) Lesson 6-7: Speaking and Listening success criteria/Presenting/Peer Assessment I personally used as a mini-project during the summer term.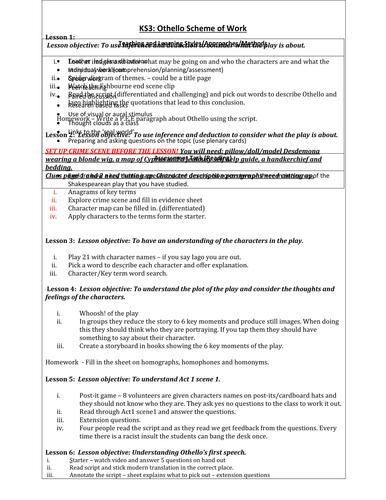 Resource-packed scheme of work on Othello. 15 lessons, all with accompanying powerpoints. Includes a scaffolding worksheet to allow students of all abilities to complete a thorough Literature essay exploring key themes and contextual ideas within the play. Individual lessons explore key themes such as racism, misogyny and tragedy, thus introducing students to quite complex themes in preparation for GCSE. Varied lessons with a number of interactive activities that encourage students to work in expert groups or move around the classroom. Reading Assessment/Essay task: Explore how a key theme is presented and developed across two main scenes of Othello.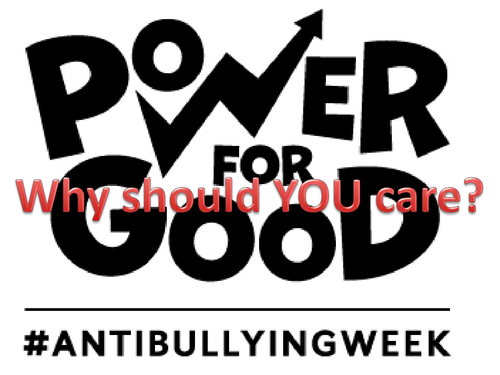 A complete Powerpoint I used for Key Stage 3 and 4 assemblies, including slideshow, funny video clip and sound effects. Final slides introduce an idea for a whole school/year group competition. Would be ideal to use to for a whole school or Year Group Anti-Bullying/Cyber Safety week.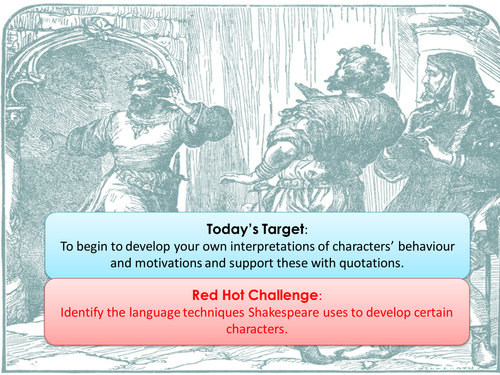 Learning Objective: To develop your own interpretations of characters' behaviour and motivations and support these with quotations. A complete lesson that looks at Act 2 sc. iii in it entirety. Includes a starter activity that helpfully explores the significance of the comic interlude provided by the porter and introduces students to the theme of equivocation within the play. Resources include a video clip and hand-out. The main task is a table exploring different characters' reactions to the discovery of Duncan's body.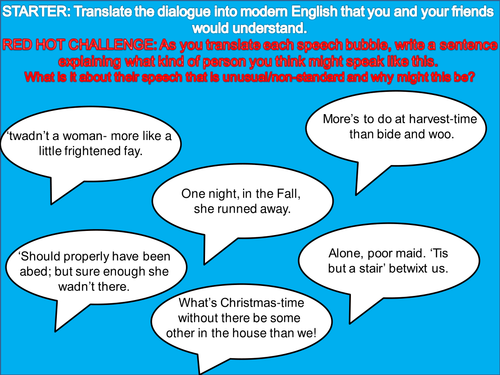 Whole lesson powerpoint includes: - starter activities looking at use of archaic language/plot of the poem - contextual information on Charlotte Mew - double-sided worksheet encouraging students to retrieve key quotations/begin to analyse - extension activities for more able students investigating narrative voice/ use of analogy within the poem - stanza-by-stanza annotations to consolidate understanding of the poem - hand out for students exploring Mew's use of the ballad structure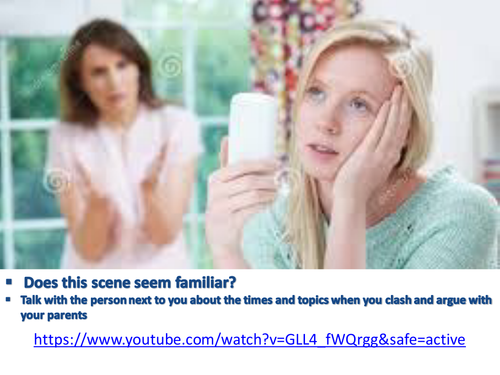 Complete lesson powerpoint on Before You Were Mine. Includes some contextual/structural notes but also designed to encourage independent thinking and for students to make their own annotations/colour codings onto their copy of the poem. Resource includes an additional worksheet (preferably to be enlarged to A3) comparing with Heaney's Follower which could then be used to plan a practice essay using the MITSL structure; this could be set as a homework or used for a follow up lesson.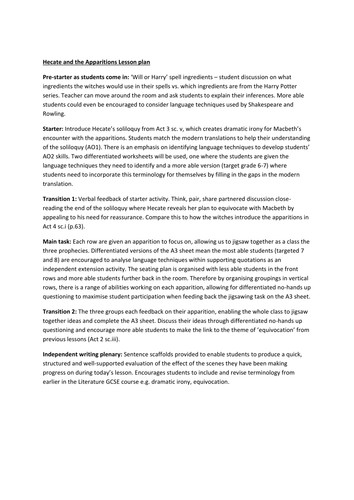 Lesson focuses on Act 3 sc. v and Act 4 sc. i introducing the characters of Hecate and the Apparitions and their link to the key theme of Equivocation in the play. This was an observation lesson and resources were praised as Outstanding, so there is differentiation throughout to challenge the more able in my mixed ability group. There is quite a lot of content so I have included my lesson plan but there is scope to adapt it to your own teaching style; more time could be spent looking at Act 3 sc. v and expanding on AO2 ideas in the Hecate's soliloquy activity so some teachers may choose to spread this over two lessons if you have the time. Some teachers may also choose to revisit the A3 sheet after reading Act 5 depending on how much of an overview your students already have of the play's ending.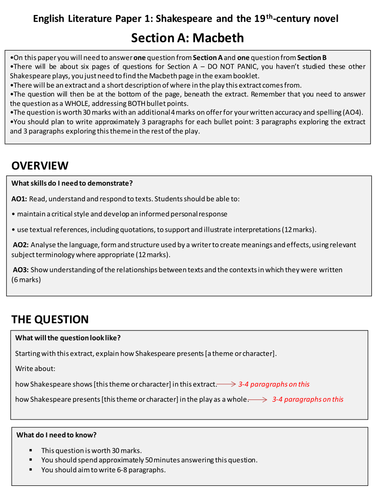 A document I designed to guide my students through Section A of AQA's Literature Paper 1. Would work well if printed as a stapled booklet or pages could be printed individually to complement a number of revision lessons/homeworks. Includes: - an overview of this section of the exam - an annotated example answer - the step-by-step approach to this question I have used to scaffold for my mixed ability group - a mock exam question - a step-by-step planning sheet, ideal for less able students (or could be planned in class then written up for homework) - a scene-by-scene summary of the play that I wrote to help my group revise the overall structure of Macbeth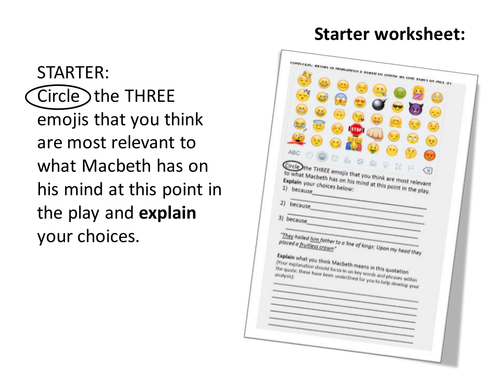 A complete lesson with engaging emoji starter activity looking at the first half of Act 3 sc. iv (Banquet scene). Accompanying resources include an extract-based exam question in the style of the AQA Literature Paper 1: Shakespeare and the C19th novel. There is also a worksheet helping students to plan a model answer for responding to this question, specifically broken down to focus students' attention on the three AOs this section of the exam assesses. The question itself can then be set as homework or can be completed in timed conditions in class during the following lesson.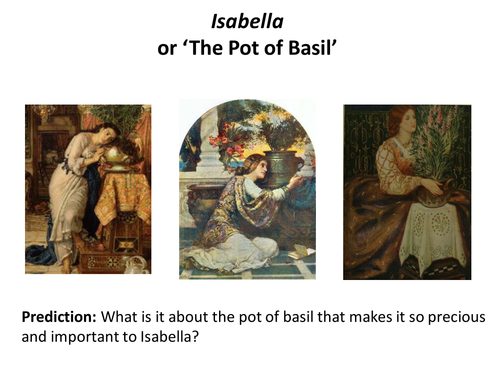 A Powerpoint designed to accompany the reading of Keats' Isabella. Will fill 3-4 lessons alongside the reading of the poem. The 15 slide Powerpoint includes a range of activities for exploring the poem: - questions close reading specific stanzas - matching exercise with modern translations - mini essay and practice essay questions - success criteria that allow students to peer assess each other's responses to the poem - contextual research task - tasks exploring a Marxist interpretation of the poem - checklists of Tragic and Romantic conventions to help students explore the genre of the poem - homework task for between lessons The primary purpose is for students to understand the poem, with some questions specifically focusing on aspects of tragedy ready for the AQA A2 exam. The Powerpoint includes an additional worksheet for once students have completed the poem, defining and reflecting on tragic Keats' use of tragic conventions.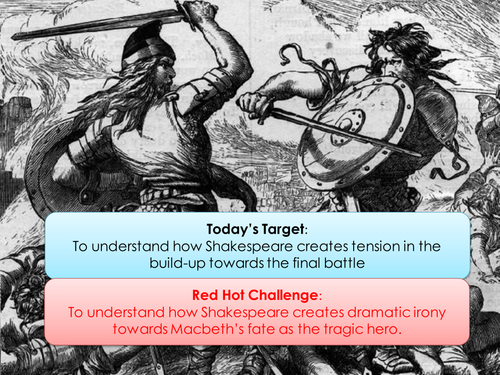 Learning Objective: To understand how Shakespeare creates tension in the build-up towards the final battle. A lesson with 2 accompanying worksheets, guiding students through Act 5 sc. ii to Act 5 sc. v and helping them begin to evaluate the ending of the play. Resource focused on developing AO2 for the AQA GCSE Literature Paper 1.
- Differentiated worksheet guiding students to make meaningful annotations on Lady Macbeth's dialogue in Act 5 scene 1. - Includes two annotation/colour coding tasks and an extension task. Will fill a whole lesson alongside the reading of the scene. - Analyses Shakespeare's language and structural choices (AO2 - 12 marks on the exam). - Could easily be used as a springboard/planning sheet for writing up an extract-based exam question in the style of AQA Literature Paper 1 as a follow up lesson or homework task.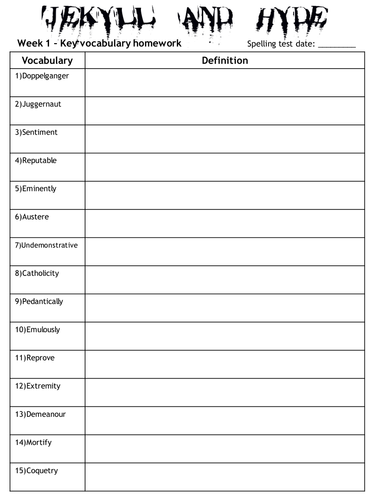 Difficult but essential vocabulary selected from all 10 chapters of the novel. Organised into 6 weekly homework sheets, that can be embedded easily into a scheme of work and set alongside the reading and teaching of the novel. Students need to research definitions and revise the words for a weekly spelling test.
Are your students finding the 16 mark Question 4 daunting? This is a gentle introductory lesson, using two much shorter, yet relevant and engaging extracts. The first 2 slides introduce students to what the examiner is looking for in Question 4. The final 2 slides can be printed back to back as a worksheet that helps students to plan the key points and quotations they would need to include in a Question 4 answer. The planning sheet is carefully based on the three guiding bullet points provided by AQA for the Question 4s on their specimen papers.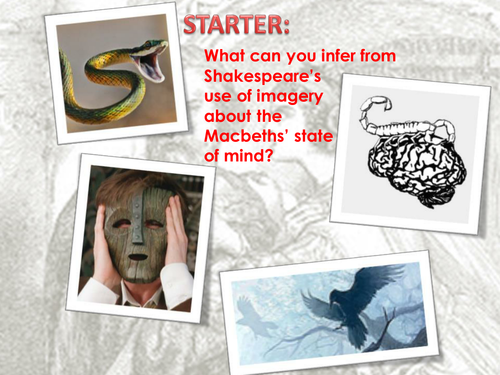 Lesson Objective: To use supporting quotations to evaluate Macbeth and Lady Macbeth's relationship in Act 3 sc.ii The resource is a complete Powerpoint lesson with an accompanying script for colour-coding that enables students to evaluate the power dynamic between Macbeth and Lady Macbeth in this scene. This resource includes: - a starter focused on imagery - a main task that encourages students to actively read and analyse key language choices - a transition card sort to generate discussion - a plenary paragraph that encourages students to use supporting quotations - an extension challenge for the more able which links to AO3 (context on the new AQA spec) A thorough, ready-to-use complete lesson.
Learning Objective: Use quotations from the play to justify whether Macbeth is presented to the audience as a hero or a villain. Extension Objective for More Able: Identify and analyse where Shakespeare uses figurative language techniques in Act 1 sc. ii A complete full lesson; a differentiated resource for engaging students in the second scene of Macbeth, ready for studying the play at GCSE. This lesson powerpoint is colourful with a helpfully annotated script to ease students into Shakespearean language. There is also a fun 'Would I lie to you' starter to introduce students to contextual information about the play. Plenary with sentence starter scaffolds to help students write in an evaluative tone about the play for the first time.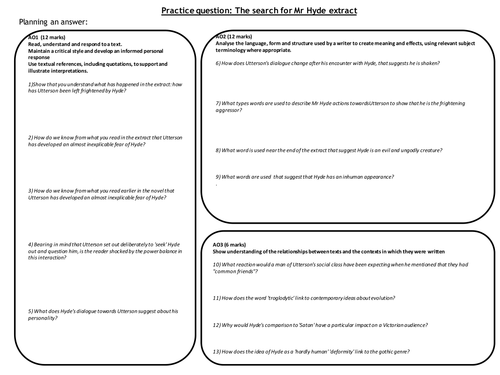 A differentiated planning sheet based around the extract question for Jekyll and Hyde. This whole-lesson worksheet involves preparing an answer for the extract used on the AQA specimen paper, where Utterson first comes across Hyde. The planning sheet is carefully divided into the three assessed AOs to help students to understand how they must meet all three objectives within their answer. Available with more/less scaffolding within this one resource.