BexNeale's Shop
Resources for Music (KS2 - KS4) linked to Music GCSE OCR 9-1 2018
9Uploads
2k+Views
1k+Downloads
Resources for Music (KS2 - KS4) linked to Music GCSE OCR 9-1 2018
Exam questions and mark scheme created or adjusted from study guides and listening exams with a focus on Rock and Roll and Rock Anthems (from The Conventions of Pop) INCLUDES AUDIO as one full exam track. :) Lasts approx 50 mins (minus reading). Track should be paused after each question in order to read the following question out to the students. Excellent for an end of topic exam. Can be used in conjunction with other topics for a mock exam (see my other resources)
Exam questions and mark scheme created or adjusted from study guides and listening exams with a focus on The Concerto Through Time. INCLUDES AUDIO as one full exam track.:) Lasts approx 35 mins. Excellent for an end of topic exam. Can be used in conjunction with other topics for a mock exam (see my other resources).
This is an excellent resource which all students love! Comes with PP of questions, video and audio files, answers, rules and score-sheets. You will need to buy your own dart board. (I use a magnetic one that I bought for around £5. The game is tailored to KS4 GCSE groups but can be adapted for younger years. Questions relate to each Are of Study from the Listening paper with questions getting more difficult as students throw doubles, trebles, bulls etc. Students can play this right up until the exam. It helps recap the main features of each area of music from the spec and also helps students relax. It's the best thing I ever made and a great resource for showing off revision lessons in CPD sessions!
Worksheet with YouTube Link encouraging students to listen for specific features of Baroque Music. Beatles pieces re-worked as Concerto Grosso. Can be issued as a full question sheet or could be cut up and given to different students as a differentiated task with answers to be used as a starter for following lesson.
Ideal for a Y9 foundation class in to OCR GCSE Music. Listening Module linked to AoS5: The Conventions of Pop. Complete with written assessment, revision material, final test and sound files and IN DEPTH teacher answer booklet. Helps students use musical terminology and listening skills in preparation for their GCSE Listening exam. Can be used in conjunction with 'Jammin' performance resource. i.e. one lesson of performance and one of listening.
Excellent engaging full scheme of work perfect for long-term home learning! Y7 or late Y6 Unit of work on Descriptive / Film Music including instruments of the orchestra. Includes: Student booklet Listening exam (with sound file and mark scheme) PowerPoint Video resources Lesson guide with suggested objectives, starter, main and plenary activities. Lessons work as listening tasks where students learn specific techniques of instruments through watching video's (included) of popular songs played on all sections of the orchestra. In lesson 3, students watch Danse Macabre and an excerpt from the Jungle Book (included) in order to identify how music works with story. In the final lesson the students are tested on these stories and on the sounds and techniques of instruments studied. The Unit of work includes questioning, literacy and maths (percentage mark-scheme of test linked to OCR).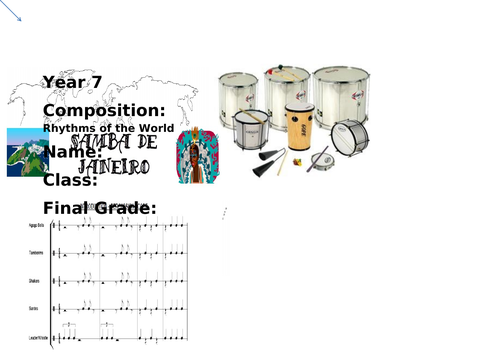 Booklet to use in 3-5 practical Samba lessons. Includes… Notation for Rio de Janerio to be performed as a class 2 page blank score for students to add their own notation Assessment brief, criteria and marking grid (OCR grading - Practical Component) Plenary questions differentiated for low, middle and high ability
Useful for Revision or as a stand alone lesson(s) in Greek Music relating to AoS3 Listening Exam for OCR Music GCSE. Comes with task by task plan including answers and a worksheet for students to complete. The Plenary is a short exam question (audio included).
Ideal for any KS4 Music Performance class but can be used as a foundation Year 9 / Year booklet as an introductory Scheme of Work to the OCR GCSE Music course. L.O Be able to use GCSE criteria to assess/improve ensemble Performance. Rehearsal Logs, starter activities, self and peer assessment. Students can complete starter activities relating to skills used in ensemble performance / rehearsal. Students can complete weekly logs as a plenary / starter when rehearsing as a band. Differentiation in song choices (can be edited to suit) Crietria and grading for OCR GCSE Music. Links to AoS5 The Conventions of Pop.