BrightonEarly's Shop
Teacher of German and French for 30 years plus!
10Uploads
26k+Views
13k+Downloads
Teacher of German and French for 30 years plus!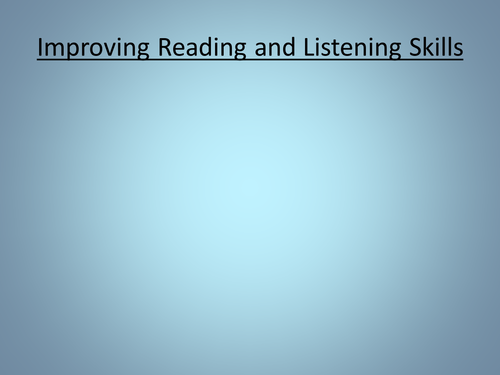 This resource aims to develop reading and listening skills in pupils. The presentation includes a number of activities to get pupils thinking about the meanings of words; the 38 games cover three different aspects of vocabulary that commonly challenge pupils in reading and listening exams: negatives, geographical words and words within words.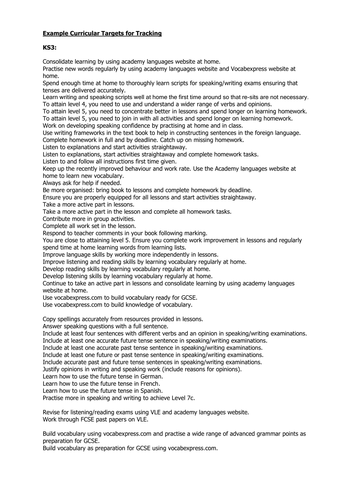 Two adaptable banks of comments to save language teachers time in writing reports. 1) Spread sheet with ideas sorted into different categories for KS3-4 language learners. 2) Lists of possible curricular targets for KS3-4 pupils learning a language.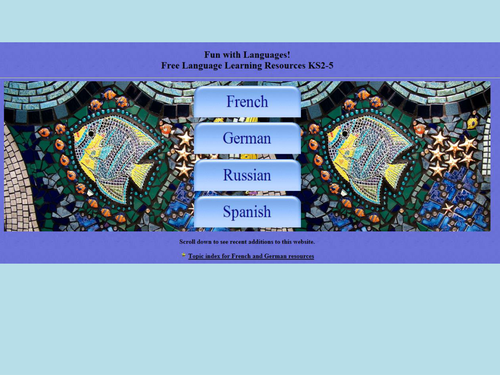 Online bank of activities, games, worksheets and resources to help in learning a foreign language collected together in an easy to navigate website. Useful as cover lesson activities, teaching activities, revision and homework. Resources for German and French for all ages and abilities KS2-KS5. Also includes resources for Russian and KS3 Spanish. Formerly known as 'Suttonhighmfl'. I have posted this using a free webhost so that this very extensive collection of resources is available free of charge to all teachers and learners of languages. Please note that the activities that require Flash work on a PC but not on an iPad or phone. Some activities such as jigwords are gradually being updated as the free host does not support this type of file. This website was first published in 2004 and is regularly updated with new resources.
Use this spread sheet to work out grade boundaries for the new GCSE. This is what I think the grade boundaries might be! Have a look at the data page and see if you agree. If not, edit the data page. I'm not an expert at creating spread sheets, so a big thank you goes to our school data manager for putting my ideas into a usable format. No one can know the boundaries for sure until the first cohort have had their results, and even then, they will vary from year to year depending on the ability profile of the national cohort and the perceived level of difficulty of the exam papers. Now that the grade boundaries for the first year of the new GCSE have been published, you can edit the data page of the spreadsheet accordingly. This will need to be done as my boundaries all proved to be severe, but do raise AQA's boundaries for the 2018 series if you are working out estimated grades for 2019. It is very likely that the boundaries will be slightly more severe as teachers will be more aware of the examination criteria.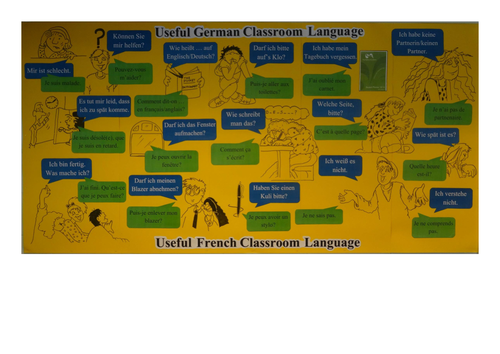 This is a photograph of a wall display in my classroom to help to promote use of target language by pupils. Print and laminate the photo to make a speaking mat. Sorry about the typo in partenaire! I hope to get the time to edit the wall display soon.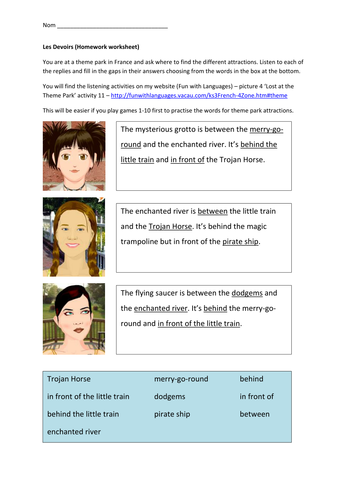 Differentiated listening worksheets to accompany activities 1-11 on my website 'Fun with Languages' (see link to website games below). This practises theme park attractions and prepositions covered in module 4 of Studio 2 (entre, devant and derrière). http://funwithlanguages.vacau.com/ks3French-4Zone.htm#theme Works well as a cover lesson activity if pupils have access to the internet.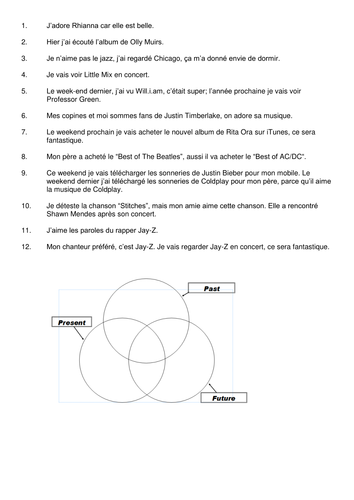 Understanding and using a range of tenses is key to both the outgoing and the new GCSE in languages. This activity is designed to improve pupils' recognition of different tenses and their confidence in moving between several different tenses at once. Challenge groups or pairs to race each other to correctly sort the French sentences about music using a Venn diagram. Ask pupils to make a very large copy of the Venn diagram on slide 2 of the PowerPoint presentation. This would ideally be A3 or bigger. They should cut out the sentences about music and then place them on the right section of the diagram depending on the tenses they can see within each of the short texts. To save learning time, you could prepare a Venn diagram and pack of sentences for each group in advance of the lesson. The teacher could circulate during this activity asking individuals questions about their choices e.g. how do you know that this text has both present and past tense verb forms? Explain why you have placed that text in that part of the Venn diagram. Pupils could make an individual copy of their group's solution using the 'answers' sheet attached. Use slide 3 of the presentation to discuss/share answers.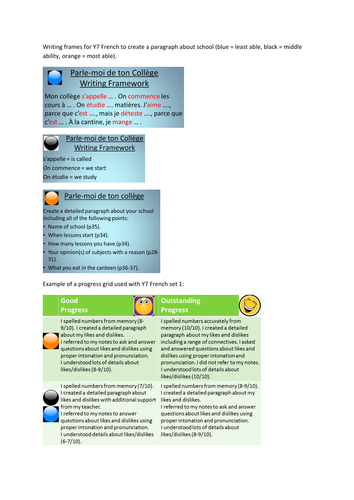 This word document is a collection of ways in which differentiation can be used with language classes. You will find the following examples, which you could adapt/tweak to use with different age and ability groups across KS3-4: • Three levels of writing frames to support a Y7 French class in writing a paragraph about school. • Three different styles of progress grids/arrows to guide pupils in making progress (these have been used with KS3 and KS4 classes in French and German). • Various examples of differentiated translation and grammar activities. • Examples of supporting most able GCSE pupils in producing complex language. • A Personalised Learning Checklist suitable for the current (outgoing) GCSE to help most able pupils to attain A/A*.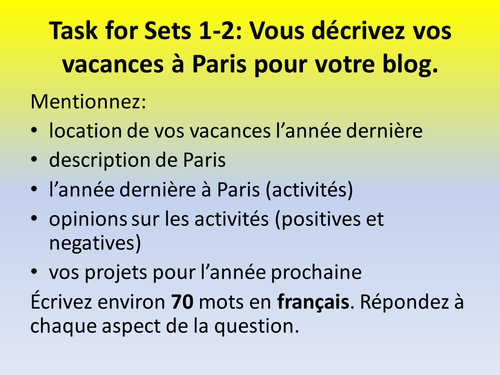 KS3 or KS4 French writing assessment on holidays in the style of the crossover GCSE exam question for the new AQA specification. Also includes marked examples and advice to teachers on marking. I have used target language in the task that closely mirrors the language used by AQA in the specimen paper. As a former Team Leader for AQA GCSE writing, I believe that my resources will give teachers and pupils additional guidance in these early days of the new GCSE.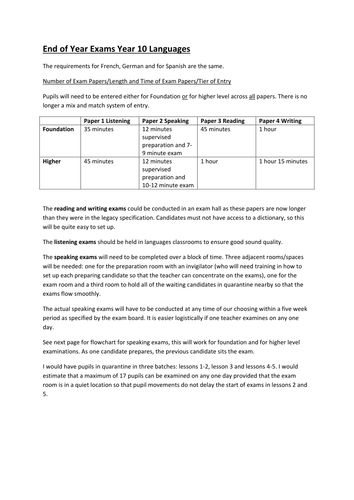 Time saver for Head of Languages. Overview of GCSE exam requirements - make sure your exams officer and SLT understand your exam needs. Adaptable speaking test time sheet - I have set this up to match my school day.