CREATIVITY TAKES COURAGE
Art & Design resources to promote student progress and enhance teaching and learning.
66Uploads
31k+Views
11k+Downloads
Art & Design resources to promote student progress and enhance teaching and learning.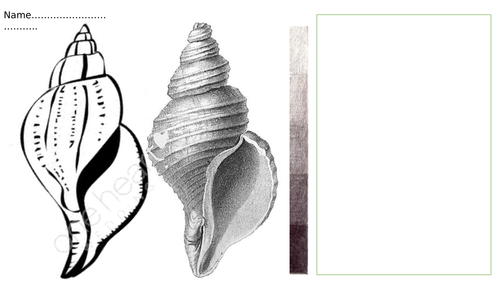 5 tonal worksheets based on shells. Useful for students studying the formal elements and natural form.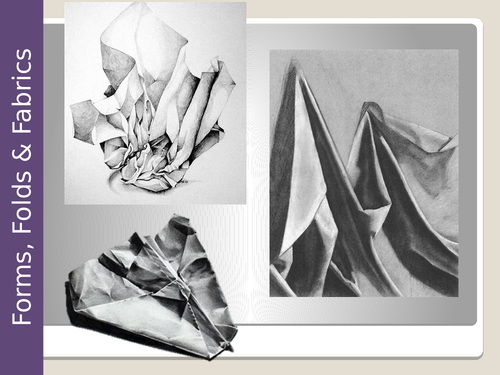 A lesson with examples of how to draw paper and fabric, observing different tones. Good observational drawing exercises.

Presentation based on Giacometti's famous figurative work. This presentation shows students how to create a figure in the style of the artist using wire, making tape and pulp. Students refine their work using paint. Each step is illustrated with a photo and instruction.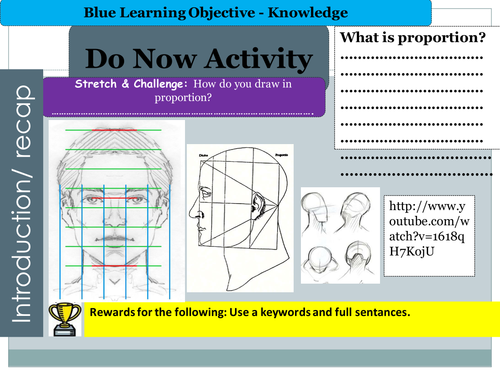 A lesson based on drawing in proportion. Includes worksheets for students to practice drawing the face using guidelines.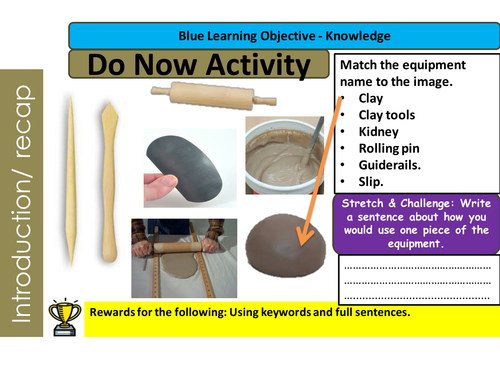 This lesson familiarises students with the equipment they will come across when working with clay. Students are encouraged to make a 3D design based on a previous drawing or template. This lesson encourages students to use the correct specialist language when experimenting with this material in its early stages.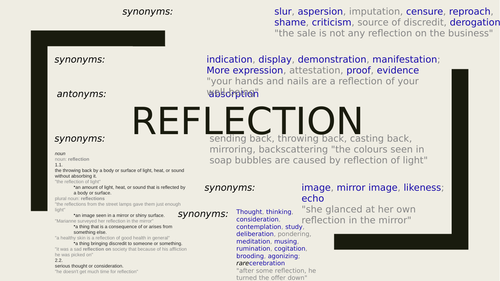 A collection of slides with images of artists work relating to the sub topics contained in the paper. Useful for mind mapping and idea development.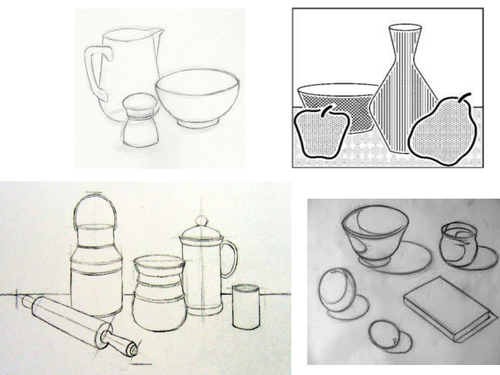 A collection of over 30 object outlines, mostly domestic objects, useful for Still Life collage compositions or as a primary resource for collage or colouring in or painting.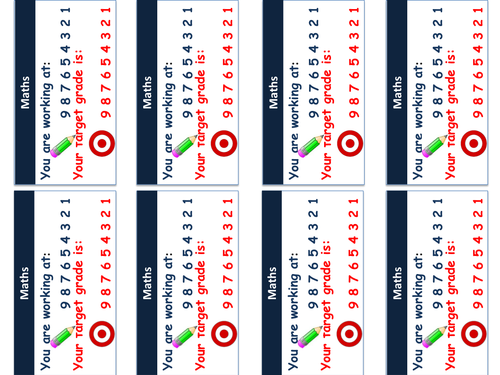 Visual label for students and teachers to recognise current and target grade. Useful printed onto sticker paper and used for the front of books or when marking individual pieces.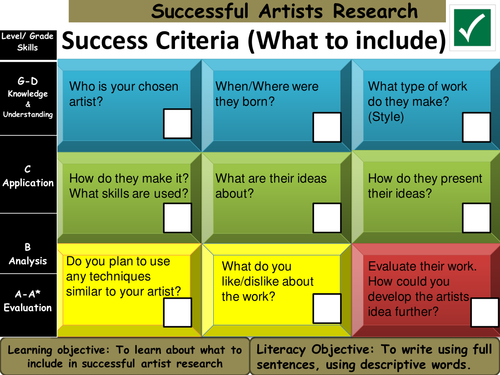 A resource to support students completing artist research. The resource contains a useful success criteria with targeted questioning which they can apply to receive more detailed and extended answers. The questions are ordered and increase in difficulty.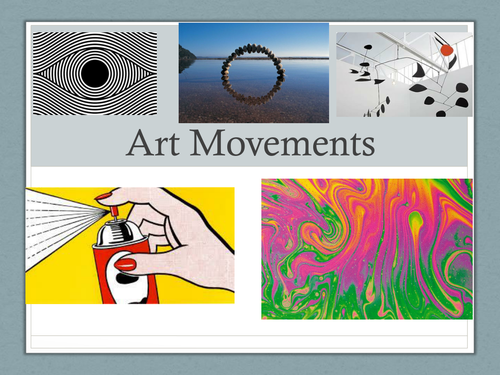 List and images of over 30 Art Movements collected into one PPT. Useful for creating displays or for general lesson planning.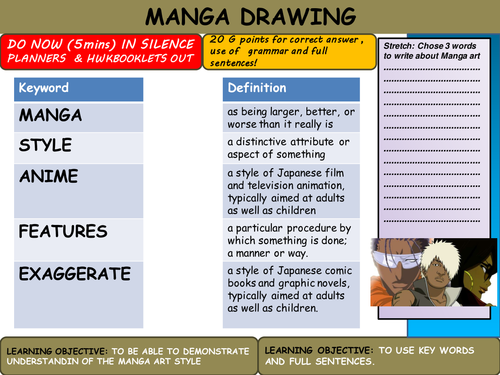 Includes lots of information and images of Manga drawing and a step by step worksheet.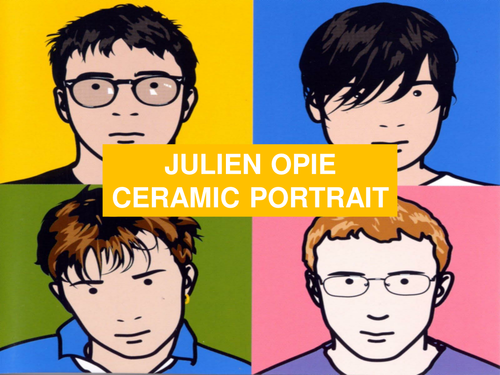 Presentation based on how to create a ceramic portrait in the style of artist Julian Opie. Guides students through designing a personal Opie style portrait and how to transfer the image onto clay to work in relief. Could be used with self drying or kiln fired clay if students want to use glaze.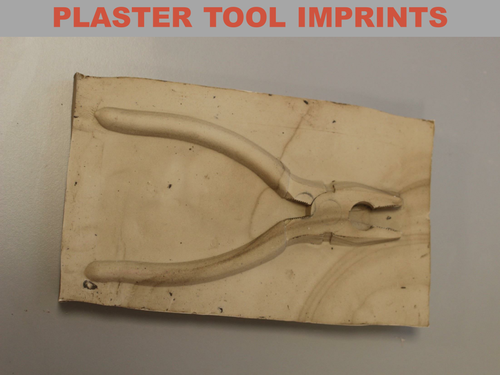 Presentation showing students how to create plaster impressions of tools using clay. Guides students through using a step by step approach, illustrated with pictures.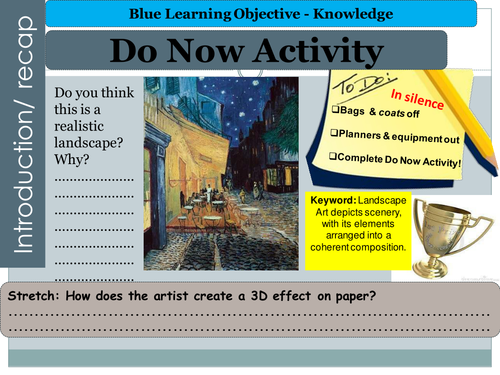 Detailed whole lesson on the importance of composition and how to draw using composition for a variety of different landscapes. Includes structured step by step activities.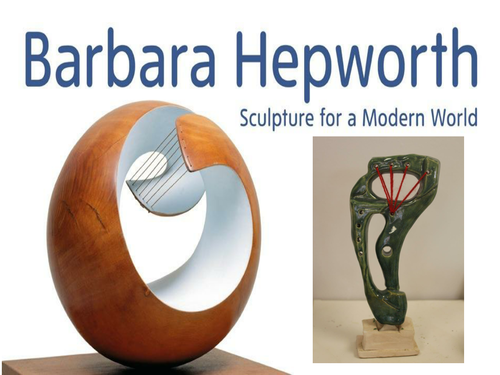 Powerpoint guiding students how to create a ceramic sculpture in the style of Barbara Hepworth. Each step illustrated from hand building to glazing.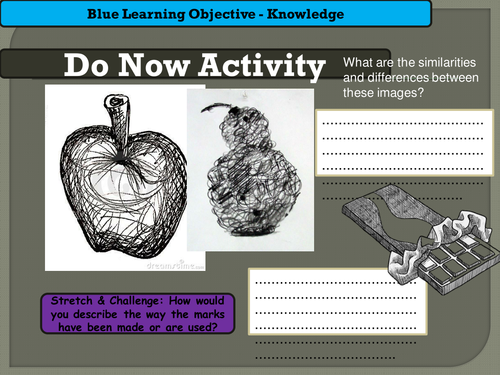 Planned out lesson with a range of activities to do with mark making. Suitable for year 9 plus. Was planned as a KS4 lesson. Encourages students to practice mark making to create texture and to take this forward into drawing form.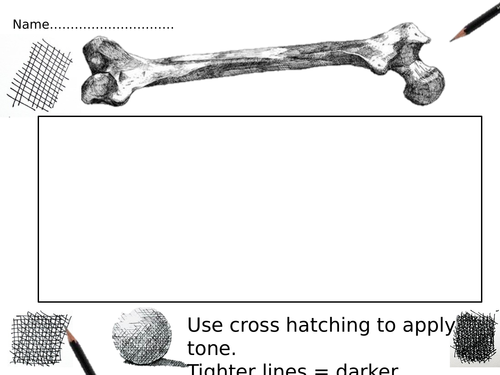 5 worksheets based on drawing the bones including the skull, ribcage, pelvis, hands. Includes tonal ladders for them to refer to when applying tone.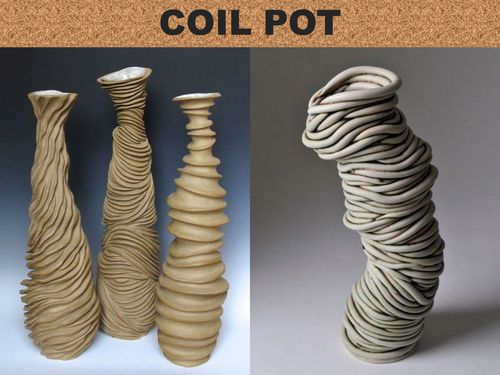 Presentation guiding students through building a coil pot. Can be made by hand or by using a clay extruder to make the coils.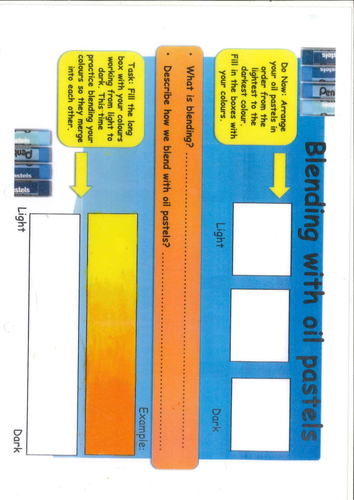 Students practice working from light to dark to blend four colours of oil pastels together.