The Cotswold Lettering Company
3Uploads
2k+Views
197Downloads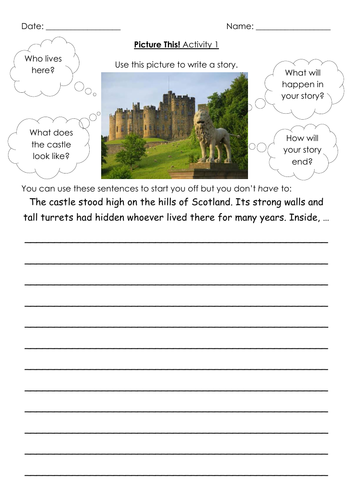 Ideal for supporting story writing, this resource comprises 4 story starter activity sheets. Each sheet contains a picture with key questions to stimulate children's story ideas and a suggested opening sentence. Ideal for Years 2-6. Can also be used as a whole class or group writing task, or great as English Writing homework. The pictures in Set 1 are: a castle, a 'Mr Men' style car on top of a tree, a fishing scene and a holiday.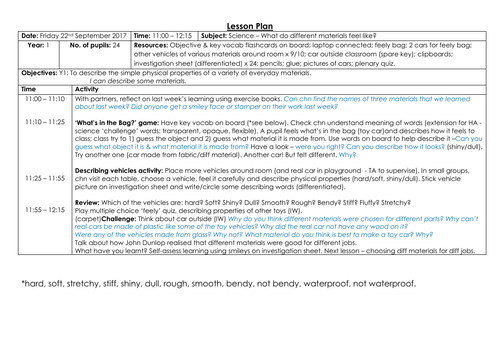 A practical investigation lesson plan, differentiated activity sheets and plenary Powerpoint quiz for your 'Describing Materials' Year 1 Science lesson linked to Vehicles. Ideal if your topic is Toy Story, Wheels etc;. All you need is a range of toys or vehicles made from different materials. When I taught the lesson, I just posted on social media asking friends for vehicles made of different materials and was inundated with money boxes, wooden toys, soft plush toys etc. Alternatively, if you don't have practical resources available, simply use the photo cards included in this pack. I also parked my car in the playground and stuck key questions on/in it. The TA took groups out to feel and describe the tyres, body, seats, steering wheel etc; it worked really well. Those questions are also included in the pack. There's so much in this pack, you'll probably have enough to fill two Science lessons: one practical investigation and a then a second lesson using the sheets provided and the photos!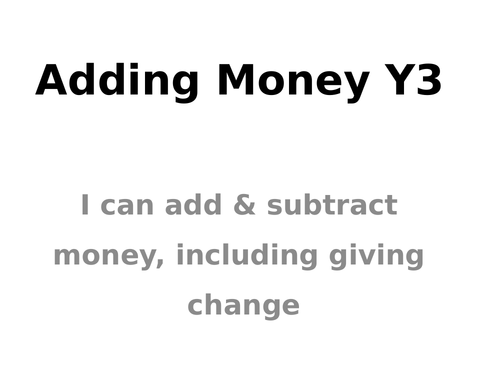 Money Year3&4: Teacher Input Powerpoint, Do It, Deepen It, Challenge sheets PLUS adding money card game Year 3 - I can add [& subtract] money, [incl giving change) Year 4: I can solve simple money problems involving fractions. Included in this pack: For the Year 3 pupils - A Powerpoint 'toy shop' to model how to add amounts of money, including visual Dienes and bar models below the calculations to support understanding; 3 Year 3 differentiated tasks: Do It, Deepen It & Challenge. For the Year 4 pupils - A Powerpoint selection of money problems involving fractions; 3 Year 3 differentiated tasks: Do It, Deepen It & Challenge. PLUS Do It/Deepen It/Challenge 'Adding Money' card game & instructions. Ideal for Year 4 pupils to play while Year 3 pupils are having teacher input. Game could also be used by Year 3s later in unit of work.