Crooked Steeple Resources
Crooked Steeple Resources produces educational resources and publications. Specialisms include special educational needs and modern foreign languages.
201Uploads
454k+Views
157k+Downloads
Crooked Steeple Resources produces educational resources and publications. Specialisms include special educational needs and modern foreign languages.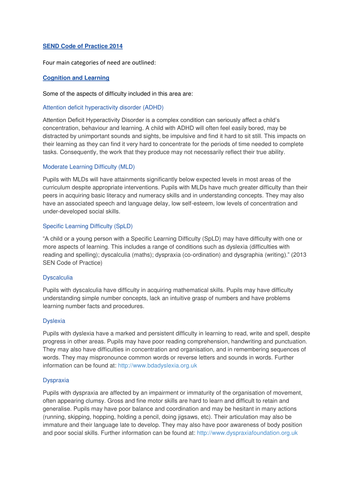 This is a SENCO survival kit to help to implement a whole school approach to SEN. Included is: A staff SEND audit (along with descriptions) for you to audit your staff training needs and confidence in working with students with SEND. A quality first teaching SEND for you to use on learning walks / observations to identify good practice and areas for development. Two booklets for staff - one on supporting students with dyslexia / literacy difficulties, and one on supporting students with speech, language and communication needs. Focus is on quality first teaching in the mainstream classroom. A powerpoint about dyslexia to deliver to staff. A powerpoint about SLCN to deliver to staff. Suitable for primary, secondary and FE. The author is a senior advisory teacher, trainer and writer in the field of SLCN.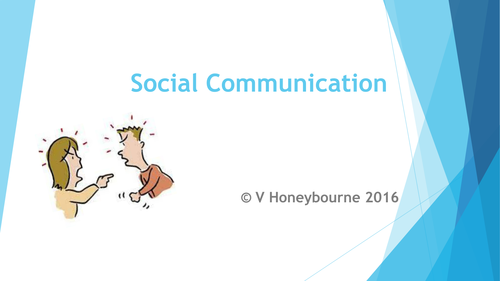 Many children and young people have difficulties with social communication for various reasons. This is a staff CPD session which includes a presentation and corresponding activities. Looks at what we mean by social communication, which pupils have needs in these areas, how to identify needs and what can be done in the classroom. Final part of the powerpoint discusses interventions in this area and things to take into consideration. Links to further resources. Suitable for EY, Primary, Secondary and FE. Mainstream staff - teachers, teaching assistants and leaders. The author is a senior advisory teacher for speech, language and communication needs.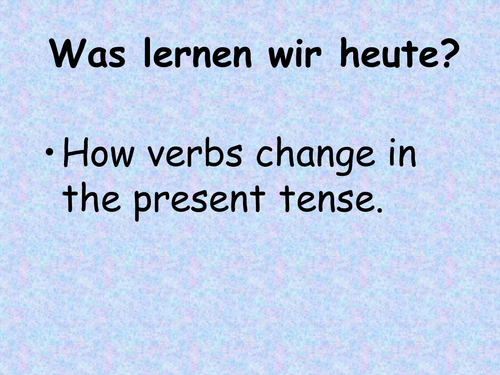 Powerpoint introducing how verb ending change in the present tense in German - includes activities and a battleships game. Discusses regular and irregular verbs. Worksheet about the present tense in German. Test on present tense verbs endings which can be done the following lesson (set learning for homework?)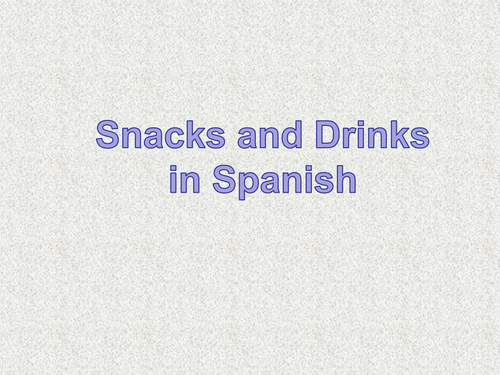 Powerpoint introducing Spanish vocabulary for snack foods and drinks. Lots of visuals, games and actvities. Making a menu and role play activities. Asking for different amounts and combinations of items. Stating your food likes and dislikes. Enough to cover a whole lesson.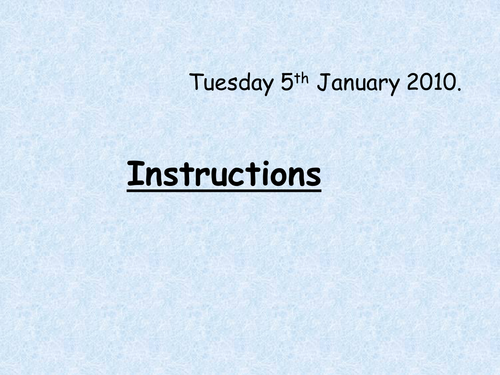 Powerpoint introducing topic of instructions. Lots of visuals. Good examples of instructions. Poor examples to improve. Game to play - work in pairs, draw a shape, roll dice, draw body part, take in turns for five minutes, end up with a monster. Pupils play this and then write the instructions for the game.

This is a speaking and listening game on the topic of 'Das Wetter'. Students can play in groups of 2 to 4 players. Simply print Slide 4 (the board) for each group. Dice are also needed, although a template is included on slide 5. Full instructions are provided, including ideas of how the game can be extended or supported. Pupils take it in turns to move around the board, asking and answering questions about the weather. A fun way of practising speaking and listening skills as well as weather vocabulary. There are also help sheets provided for students to refer to, and slides which introduce the weather phrases - these, along with the game, would be enough for a full lesson on weather.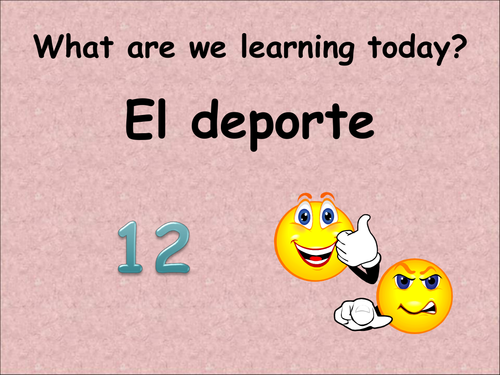 Powerpoint presentation introducing vocabulary for the names of sports in Spanish - over 25 different names of sports included. Plenty of visuals for games such as beat the teacher. Match up exercise. Team points games which can be differentiated by asking for full sentences or opinions too.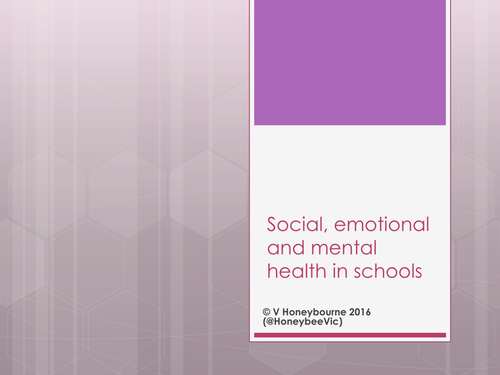 This is a detailed powerpoint presentation for a staff CPD session - suitable for primary, secondary and FE. Audience: teachers, teaching assistants, support staff, leaders. Discusses what is meant by social, emotional and mental health, explores risk and resilience factors. Activity on how to identify pupils with difficulties. Links with SEN and particular difficulties for this group. Facts and figures included on why this is a current issue. Discusses what schools can do to support this group and improve wellbeing. Video links included. Links to useful organisations and websites.

Book now available in paperback and e-book: https://www.amazon.co.uk/dp/1537502654/ref=sr_1_2?s=books&ie=UTF8&qid=1477217987&sr=1-2 As a young woman on the autism spectrum you perhaps have many questions: What does autism mean? How will it affect you? How can you not just survive but thrive in a world not designed for you? Can you be happy and autistic? Working through this book you will learn more about your autism, identify what is important to you and reflect on practical strategies which can help in a range of situations. You will uncover your strengths, skills and talents, improve your sense of wellbeing, and find out how to live a life which is meaningful to you. This book is aimed at women in their teens or twenties with an autism spectrum condition (such as Asperger syndrome or High Functioning Autism) and includes sections on: self; health and wellbeing; friendships, relationships and communication; learning; employment; and lifestyle. Elements of positive psychology are used to help to promote a sense of wellbeing, self-identity and self-esteem. This powerful book is essential reading for any young woman on the autism spectrum. Written by Victoria Honeybourne, who has a diagnosis of Asperger Syndrome, as well as significant professional experience as a teacher within the field of special educational needs, this book enables and empowers the reader to gain confidence being an autistic individual. 'Your Autism Journey' shows you how to survive, thrive and enjoy life, while gaining deeper insight into your autism and what makes you 'you'! 'Life is about the journey!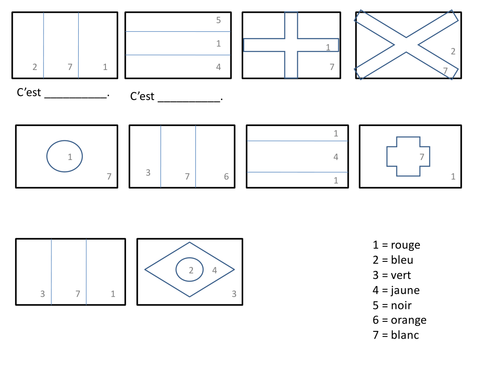 COlour by numbers sheets in French and German - pupils read the colour in target language and colour in the flags. Extension - write the name of the country in target language.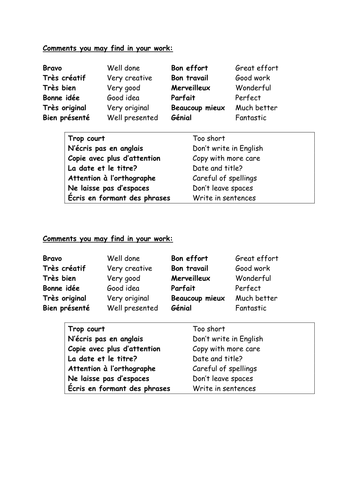 I asked pupils to stick this into books at beginning of year so they could refer to it when the had work returned to them.

Give each partner a different sheet. They have to ask questions and listen to the directions their partner gives to see if they can mark the places in the correct position on their map.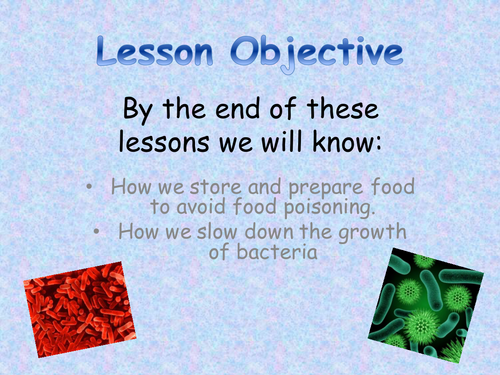 Lesson on how to prepare and store food in order to prevent food poisoning. Powerpoint to introsuce lesson. Group work - each find out about a topic and then teach the rest of the group. Millionaire quiz to finish. Did this over two lessons with a group of pupils with SEN.

This is a powerpoint presentation on word types - nouns, adjectives, pronouns, verbs and adverbs. Each word type is introduced with examples and there are activities for the whole class (group work or activities with a learning partner). There is then a worksheet for pupils to work through with a section on each word type. An answer sheet is also provided. This is designed for KS2 pupils as part of the Spelling, Punctuation and Grammar (SPAG) curriculum. It can be used as a revision lesson as well as to introduce the topic. It would also be suitable as a revision activity for Key Stage 3 or Key Stage 4 pupils, including those with SEN. Everything within this resource is self-explanatory and answers provided so this would also be suitable to leave as cover work for a non-specialist to deliver. If all activities are completed there is enough work for two lessons. If pupils are being introduced to the topic for the first time, this resource can also be split up into individual sections (e.g. work on nouns for lesson, work on verbs for another).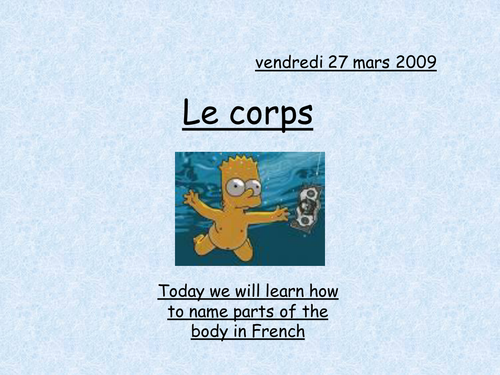 Powerpoint introducing the body parts in French using Bart Simpson - lots of activities plus labelling exercise.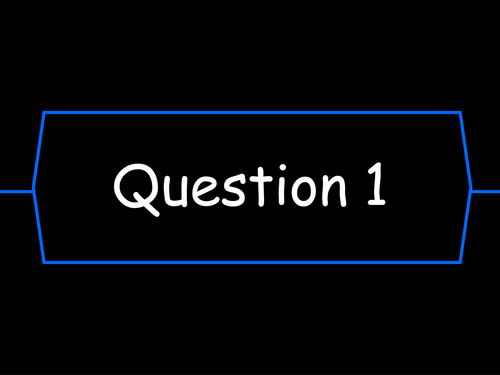 Who wants to be a millionaire quiz on the names of 2d and 3d shapes. Includes visuals as well as worded questions. I designed this for use with a group of pupils with SEN who needed frequenct revision and repetition of the names of shapes. Can be played as a whole class, in teams or as individuals. Great for a starter or plenary activity.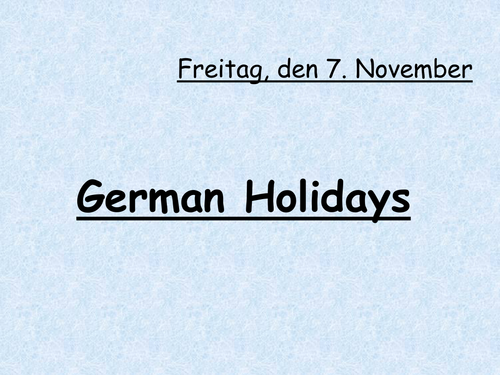 Powerpoint that introduces festivals and bank holidays in German - lots of activities such as disappearing and matching games. Allows discussion of German celebrations such as Tag der deutschen Einheit. I also printed some slides and got the pupils to match the dates to the festivals.