CurriculumForAutism
Autism resources for teachers and homeschool parents
6Uploads
42k+Views
2k+Downloads
Autism resources for teachers and homeschool parents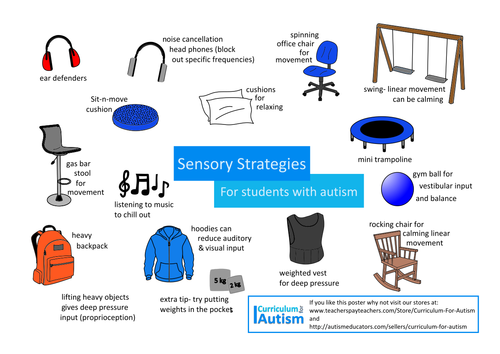 FREE Autism Awareness Sensory Strategies poster Many challenging behaviours associated with autism may in fact be sensory seeking or avoiding behaviors. It is important to meet a pupil's sensory needs so that they can engage with learning. Terms of Use: This Product is copyrighted by CurriculumForAutism 2016. If you wish to distribute printed copies of this free poster within your school or to parents, please acknowledge CurriculumForAutism as the source. This poster may not be uploaded to any website without my written permission. <a href="https://www.curriculumforautismresources.co.uk/">Visit my site for more autism resources</a>

FREE "How Autism Affects Me" Graphic Organizers for older pupils April 2nd is World Autism Awareness Day- children, young people & adults with autism also need Acceptance & Understanding I hope these No Prep Graphic Organisers help your older pupils with autism to explain to teachers, parents, therapists & their classmates how autism affects them, and the types of help they need. Terms of Use: This free resource is copyrighted by Curriculum For Autism 2017. If you wish to distribute this free resource within your own school or to your pupils' parents, please acknowledge Curriculum For Autism as the source. This resource not be shared on any websites without my written permission. For more resources for pupils with autism and special educational needs, please visit my Curriculum For Autism shop.

Social Distancing at School 'Is this OK?' Yes/No cards for students with autism and special education needs. 12 easy prep cards. Your students will clip their answers with clothes pins (their own set) or circle the answers with a pencil. I hope these cards help your students to understand the new classroom rules caused by the need to keep socially distant from others.

Free Christmas Countdown Calendar Chart for students with autism and special needs who may be anxious or confused about Christmas approaching (and don't like traditional advent calendars) Also included is a No Christmas Zone poster for your class, calm down, or sensory rooms for students who become overloaded by too much sensory input at Christmas time, and need a quiet space without trees, lights & ornaments. My teen son with autism becomes anxious about Christmas really early, so every year he uses an "It's only November" countdown chart- I've included that too for your students who might need it. Instructions for use: Print & laminate one countdown chart per student. Students can check, cross or color each box as they count down to Christmas. Terms of Use: This product is copyrighted by Curriculum For Autism 2016. If you wish to distribute this free resource within your own school or to your students' parents, please acknowledge Curriculum For Autism as the source. This poster may not be shared on any websites without my written permission. You might also like: Christmas Count to 10 Clip Card + Write & Wipe set Christmas Matching Christmas Sort by Size & Color

Professional Development Video for Autism & SPED teachers : How To Use Clip Cards with Special Education Pupils of All Ages. I hope watching this short video gives you some ideas for using Clip Cards in your classroom. If you're looking for clip cards for your pupils, you might like: Telling The Time- Quarter Past & Quarter To clip cards Reading Nouns Clip Cards Comparatives Clip Cards

Should they wear a face mask? clip cards for students with autism and special education needs. This free set contains 12 cards in 2 versions- a) uses the wording "face masks" b) uses "face coverings" It has not been possible in this resource to cover every situation where masks, scarves or other coverings are required in every country, but I have tried to cover a broad range of scenarios including public transport, shops, and medical appointments. There are situations included to which the answer is 'no' so that our kids can think through why they don't need to cover their face as well as why they do. Not familiar with clip cards? Just print & cut (laminate if required),. Your students will use clothes pins or paper clips to clip their answer.