33Uploads
41k+Views
76k+Downloads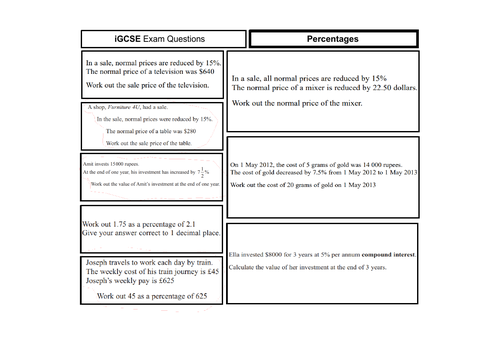 GSCE and iGCSE Revision Pack for Mathematics. Contains over 10 hours of exam questions with full worked solutions. Perfect for revision approaching exams, or for independent work. Suitable for secondary, ages 14-16.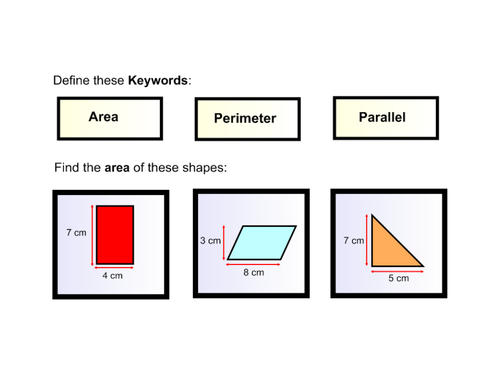 I have complied a set of 20 Literacy Starters which I have created and used this year. Each starter is on a different topic, mainly focusing of the GCSE Maths and iGCSE Maths courses. Each starter consist of defining 3 keywords, and then an additional three questions. All answers are included. Hope this is useful…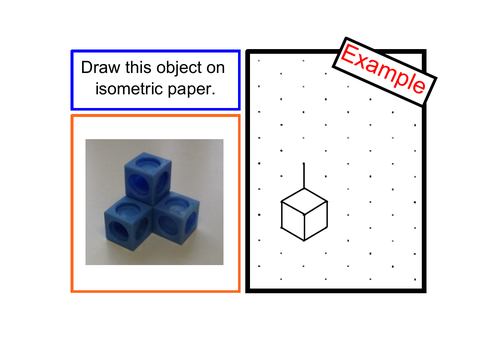 This includes an example and a set of 12 questions asking students to accurately draw isometric images. Isometric grids for answers are included in the questions. Appropriate for secondary, ages 11-16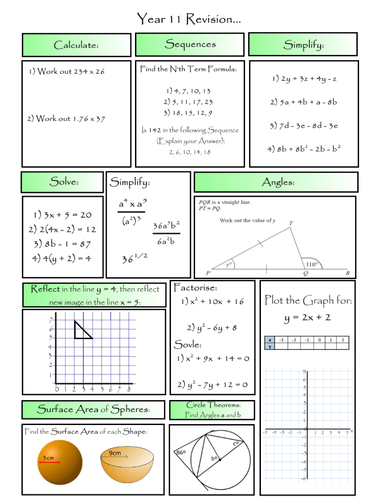 12 separate worksheets which focus on the lower end of the higher specification. Sheets are best used when photocopied up to A3. Topics are revised through a selection of created questions, and past exam questions. Appropriate for Year 10 and 11 Set 2 and 3.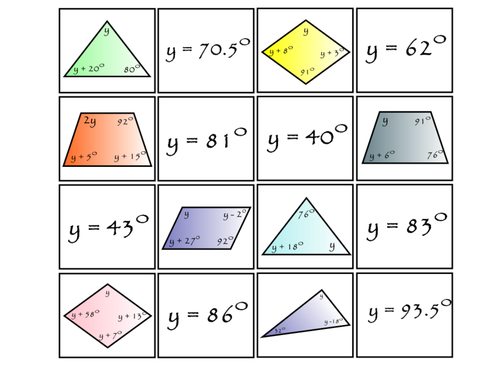 Form an equation using the labelled diagrams and solve them to find the matching answer. The first task can be used a cut and stick task. The extension task moves onto slightly more complex shapes, and works best as a Sage and Scribe activity. Appropriate for Years 7 - 11.
Complete two year Puzzle of the Month pack. Contains 3 puzzles (hard, harder and hardest) for all 22 months of the school calendar (August is excluded). All answers with brief explanations are also included. Works well for a display which is updated monthly, or a website that is updated monthly. Appropriate for secondary, ages 11-14.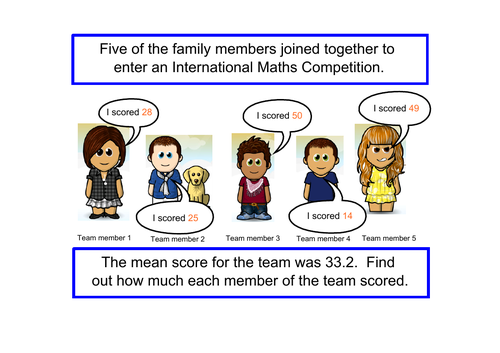 Engaging task which involves converting worded descriptions of ages into algebraic expressions. This task also introduces the idea of creating and solving equations. Task is best completed one family at a time, with a class discussion following each set of questions. The questions gradually increase in complexity. All answers are included. Extension task also included. Appropriate for secondary school students, ages 11-16.
*The initial idea for this activity was found on TES. * I took the initial idea and made an activity that was suitable for my Year 10 class. This resource includes a full lesson with starter, main activity and plenary which consolidates the topic of Simultaneous Equations and Linear Equations. There is also a problem solving element, and the real life context helps to engage the students. Briefly introduce the lesson; give the students the 12 receipts and let them decide the best way to solve the problem. I hope this is useful!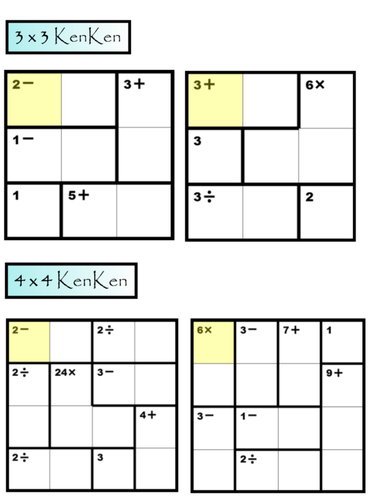 Mathematical Problem-Solving Task. Introduction to KenKen Puzzles. Starts from 3x3 Puzzles, up to a 'world championship' 6x6 Puzzle. Appropriate for Years 8 - 11.
To consolidate the learning of Equation of a Circle. Complete the matching activity by placing the correct answers, in the correct columns. Students can cut and stick answers, if table is copied to A3, or they can just be wrote into the correct columns. Appropriate for Higher GCSE. groups, and the Further Maths GCSE course.
Full lesson on the topic of Repeated Percentage Change and Compound Interest. Main activity focuses on an Antique Fair. Task also needs an understanding of exchange rates. Also included, are full worked examples, exam questions with worked solutions, extension tasks and a comparison task between simple and compound interest. Suitable for secondary, ages 12-16.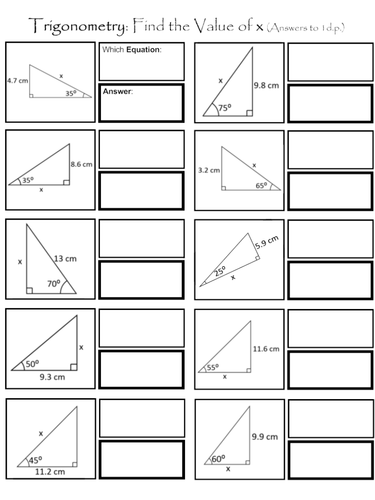 Two consolidation tasks on SOH CAH TOA. The first focuses only on finding lengths, and can be used as a Matching Task, as the answers are included. The second task can be used as an extension task, or a main task for Higher Ability groups.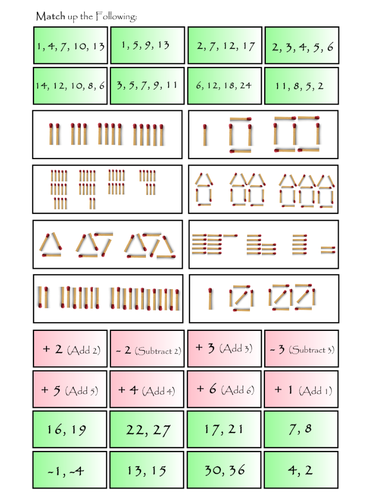 Three Matching activities to consolidate Sequences. Ranges from basic sequences and images, to n'th term of Quadratic Sequences. The correct answers, need to be placed into the correct columns. The tasks can be used from Year 6 - Year 11, or would make a very good differentiated lesson if used all together for mixed ability year 8 or 9.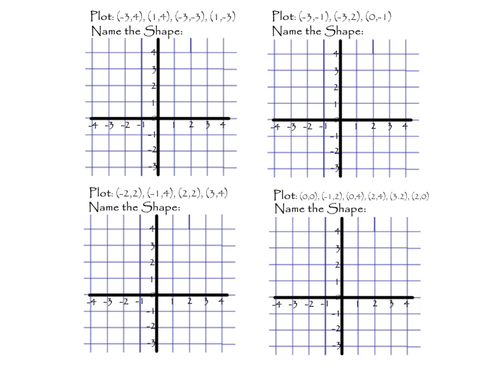 Students need to plot co-ordinates in all four quadrants correctly to create shapes. These shapes should then be named. Basic task for introducing or consolidating plotting co-ordinates. Appropriate for Year 6 - 9.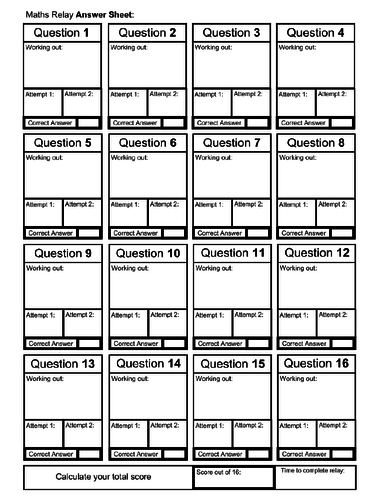 I put together this problem solving relay activity for our Year 6 into Year 7 transition day lesson. Most of the good quality Maths relays available were too difficult for this age group to access so here is a slightly more basic Maths relay. Student answer sheet and answers are included! Hope this is useful!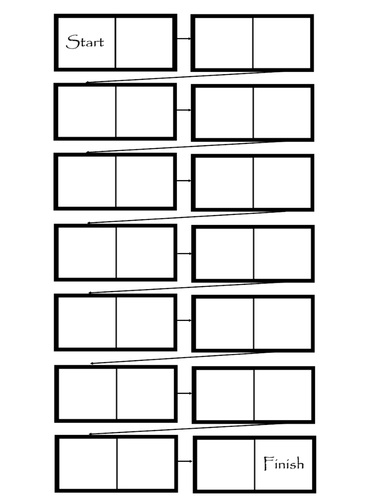 This is a collaborative task, which involves the students creating their own set of domino's This can be used on any topic. I have included instructions and a few examples on the notebook file. Can be used to consolidate most topics, and can last for as long as you want, as students can complete as many of the other students activities as possible. Appropriate for Year 7 - Year 11.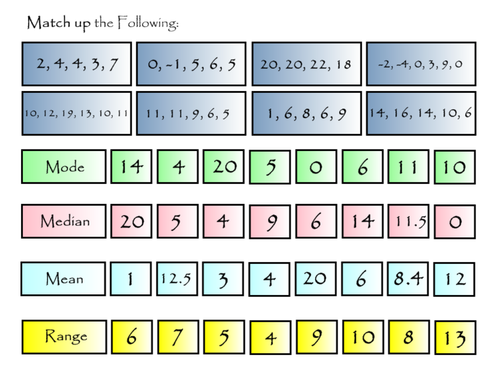 Find the Mean, Mode, Median and Range of the lists of Raw Data and place them in the correct columns. Should consolidate the understanding of basic averages. There is also an accompanying selection of whiteboard questions, and a slide to allow students to create their own definitions. Appropriate for Year 7 - 10.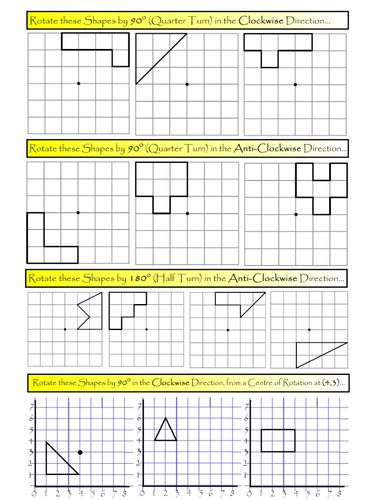 A selection of Rotation Tasks which increase in complexity. The worksheets work well when photocopied up to A3 size. Appropriate for Year 7 - 10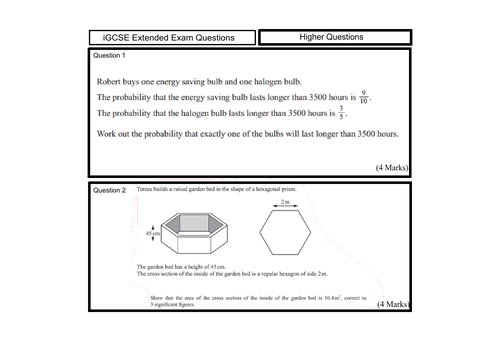 Selection of Higher iGCSE Exam Questions. This is a set of questions from Higher papers, and I have chosen questions which quite often cause common errors or misconceptions. To be used as a consolidation task or a revision homework.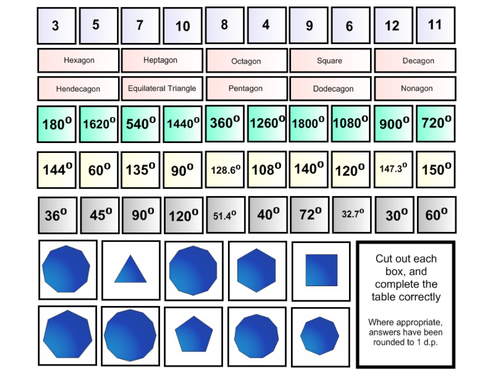 Task to consolidate the learning and understanding of the topic of Regular Polygons. Can students identify the shapes? name the shapes? calculate the sum of the interior angles? calculate the exterior angles? Students should cut out the first work sheet and arrange it correctly in the table. This task works best if the table is photocopied up to A3. Hope this is helpful…