DosbarthJJ's Shop
Providing a range of material suitable for use in primary schools, across a range of subject areas.
76Uploads
16k+Views
2k+Downloads
Providing a range of material suitable for use in primary schools, across a range of subject areas.

A lesson designed for children to identify the amount of sugar that can be found in a range of different drinks. A PowerPoint to explain what sugar is and an explanation of a range of tasks. Can be carried out in an afternoon on a rotation basis or can be used as a series of lessons to investigate the amount of sugar in drinks. Differentiated worksheets to accompany tasks.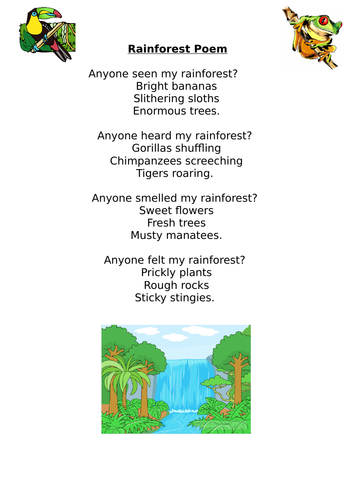 A rainforest poem example & low ability writing frame. Poem focuses on the 5 senses, following a pattern. Used with a year 1 class. Sensory word bank included.

A scenario based Science investigation involving shadows. PowerPoint of sub-headings to support planning of investigation, as well as an accompanying worksheet and scenario card. Also includes evaluation worksheets.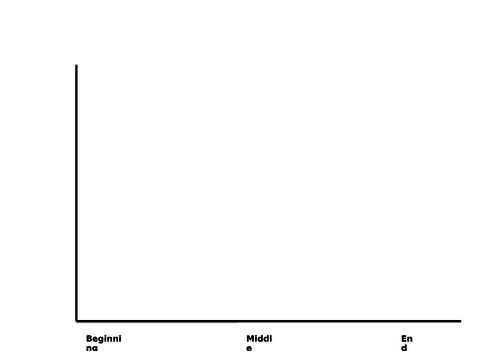 A template which can be used to display characters feelings, emotions or actions through the beginning, middle and end of a story or short film clip. Includes a blank version, smiley face LA version and 2 versions with a differing number of lines, for children to add in their own vocabulary related to emotions.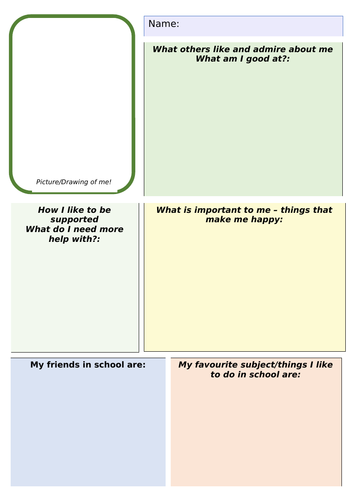 A template for getting to know a new class, getting a child's perspective on their strengths and weaknesses, likes and dislikes etc. Can be used as a One Page Profile, an introductory first week back task or as a homework task. Contains a blank version which can be used if completing using ICT and a version with lines if handwritten. Both .doc templates so can be easily edited.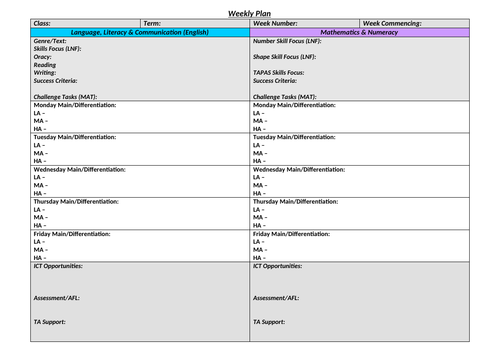 A weekly planning document template & evaluation document template based on the new 'Successful Futures' curriculum for Wales. Templates are organised in the 6 new 'Areas of Learning Experience' (AoLEs). Easily adapted as in .doc formats.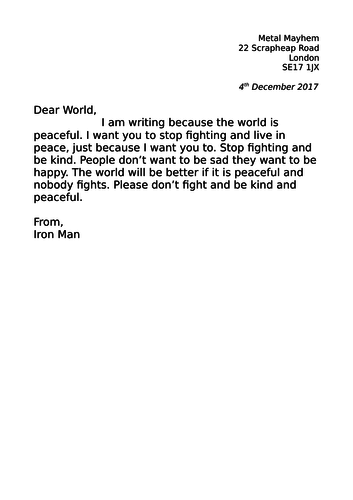 An Iron Man description example to be improved. Also includes a 'good' and 'bad' example of a letter. Differentiated capital letter activity where children need to add or correct capital letter errors. Used with a year 4 class.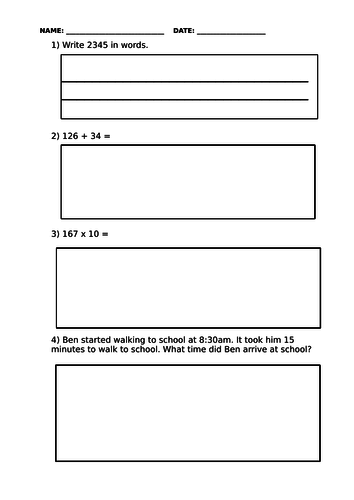 A maths assessment suitable for year 4 with a range of mathematical questions.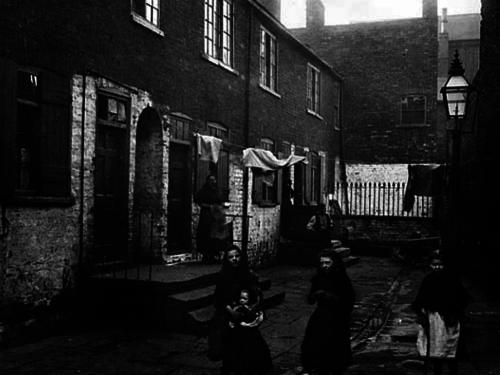 Pictures of different streets during the Victorian times. Different images of a Victorian street with accompanying writing sheet. Includes Word and pdf formats. Used in a year 1 class, but can easily be used across Primary age phase.

An investigation to identify the effect that exercise has on the human body. Includes a PowerPoint to support investigation planning, with worksheets to evaluate following the investigation. Also includes a PowerPoint about how to take pulse rate & a graphing sheet to display results, with relevant questions to ask of the data.

A task for book by Philip Pullman 'Clockwork'. Children to write their own blurb and preface for the book.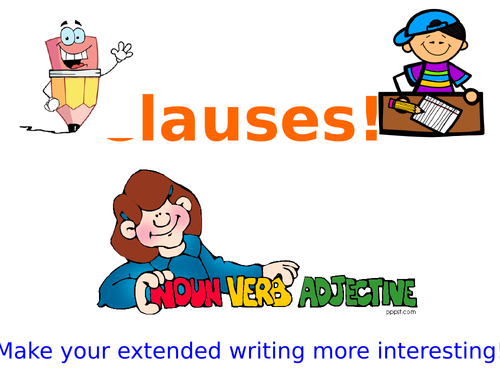 A lesson plan, PowerPoint and differentiated activities to support the teaching of clauses and the extension of simple sentences. Includes a detailed PowerPoint to teach clauses which includes a number of activities for children to complete on whiteboards throughout the session. Varied tasks differentiated by ability to apply the skills taught.

Various activities used in a year 1 classroom. Can easily be adapted for use across primary age phase. Bundle includes: - Describing a Victorian street. - A diary as a Victorian Trapper child - Victorian holidays - Victorian school day (rich and poor Victorian children) - Describing a Victorian Street. Bundle saves 50% off individual resource prices!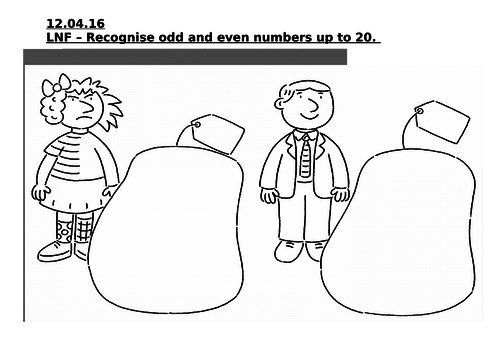 Differentiated activities to support teaching of odd and even numbers. Used in a year 1 class.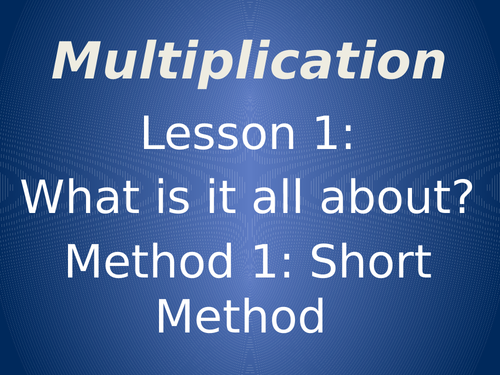 An introductory PowerPoint to introduce different methods of long multiplication. Differentiated activities - can be used in class or as a homework task following classroom based activities. Easily adapted.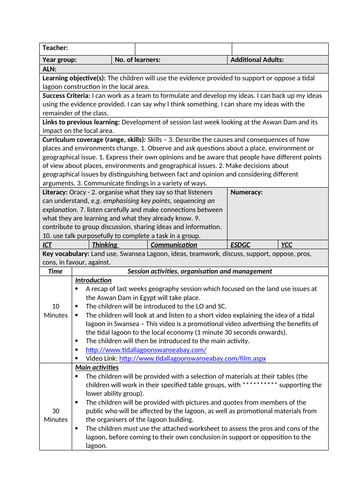 A lesson based on the Swansea Tidal Lagoon. Session explores the pros and cons of building a tidal lagoon in Swansea, South Wales. Use news reports to support the task. Various resources to support group discussion, culminating in a whole class discussion where children need to decide upon whether they think the tidal lagoon is a good idea or not.

A Philosophy for Children (P4C) lesson aimed at children in Key Stage 2, based on the book 'The Day The Crayons Quit' by Drew Daywalt. Lesson begins with a mystery box, which contains a pack of crayons, with one crayon outside of the box. Lesson plan, supporting PowerPoint and planning sheet provided, all in editable formats.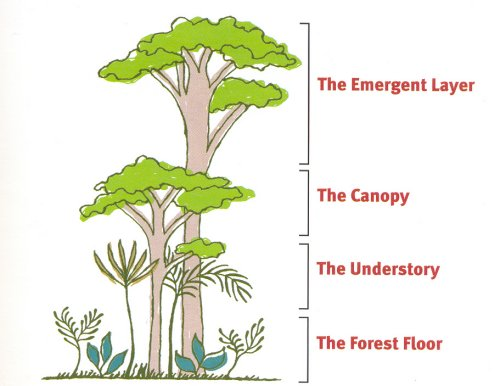 Children to label and write about the features of the different layers of a rainforest. Differentiated worksheets, used in a year 1 class.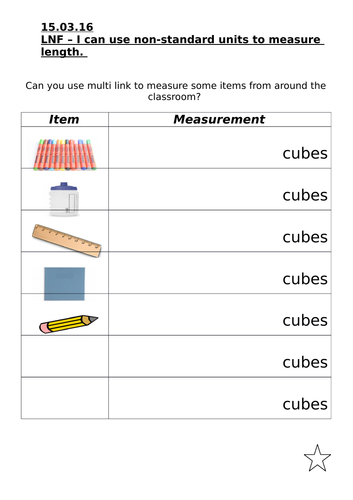 Differentiated activities to support teaching of measuring length using non-standard units of length. Can easily be adapted to support teaching of cm. Used in a year 1 class.