33Uploads
620Views
60Downloads
Chemistry reources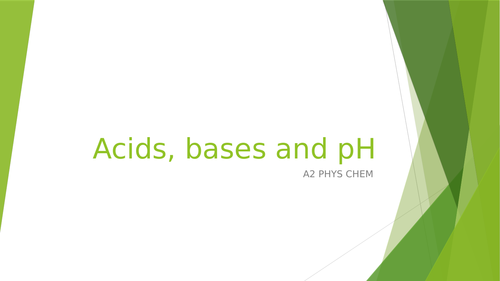 This resource is a lesson created for A2 Chemistry OCR syllabus which covers Bronsted - Lowry acids and bases, conjugate acid-base pairs, mono, di and tribasic acids, neutralisation reactions with acid: carbonates, metal oxides and alkalis. Includes theory, is interactive and has questions and answers. It has step-by-step guides to calculations and refers to OCR Chemistry textbook (states page numbers of summary questions to complete at end of teaching a mini-topic). This resource is a full lesson created for A2 Chemistry OCR syllabus which covers Kp, partial pressure and mole fraction. Includes theory, is interactive, plenty of questions and answers. Clear step-by-step guides to calculations.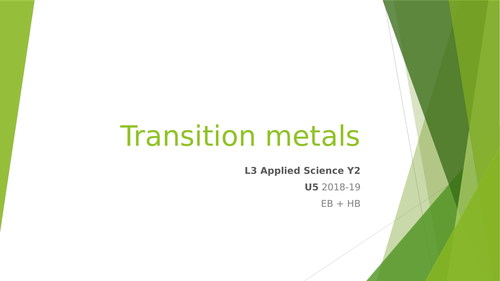 A lesson created on transition metals - can be used for either unit 1 or unit 5 new BTEC L3 Applied Science (Pearson, from 2016).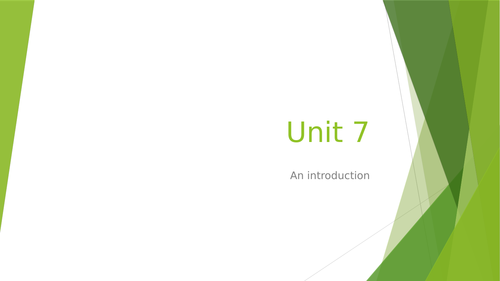 Attached is a full introductory lesson created for the new BTEC Unit 7: Contemporary Scientific Issues. It is activity based, with instructions and answers, a recent case study to get students started, points for discussion, a video on the case study, explanation of terms ethical, environmental, social and economic along with reliability and validity. Gets students thinking about reliability of sources, bias, etc.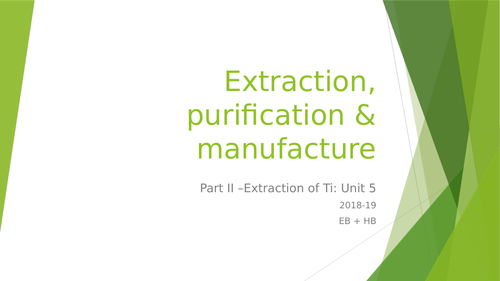 Around 3 hours worth of lesson(s). This was initially created for the new BTEC Applied Science U5 Chemistry: extraction, manufacture and purification of substances. However it can also be used for GCSE, metallurgy or similar science courses. It covers the extraction of these metals, energy requirements and disadvantages along with amphoteric behaviour of alumina.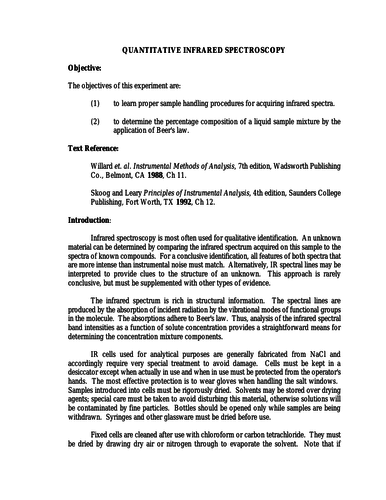 Some pointers and ideas to help you devise a method and practical for the new unit 19 applied science unit. This practical is one of the 4 options for assignment B. I know that the use of IR for quantitative analysis is uncommon, but it can be done. Find attached a journal article of a similar experiment and a short outline of a method (word doc). Journal is obviously not my own work, I have just uploaded these to help centres devise their own methods for this assignment. I hope this is helpful for you. Please take a look at my other resources :-)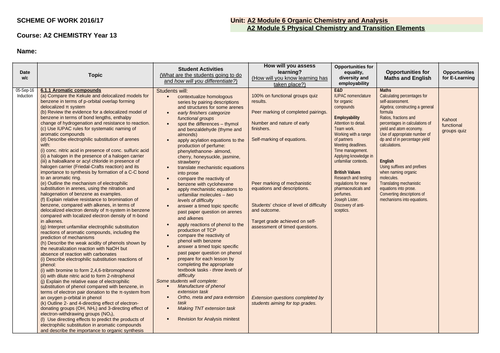 Schemes of work written for OCR A Chemistry Dates range from 2016-18 but can be easily changed. 1 SOW is for 1 teacher teaching the whole A2 (all modules) 1 SOW is for physical only (minus electrochem) which is for 1 teacher teaching 2 hours a week (co-taught) 1 SOW is for mixed modules for 1 teacher teaching 1 hour a week (co-taught)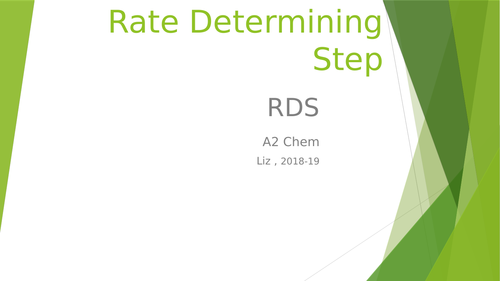 A short lesson created for OCR A2 Chemistry on the rate determining step.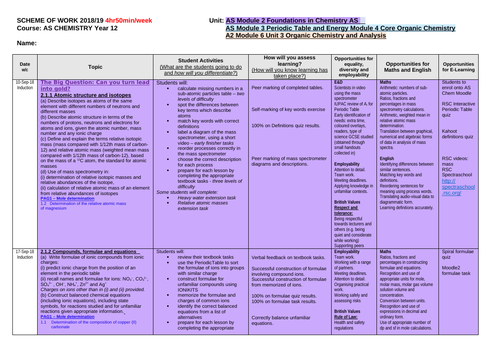 2x SOW + 1 overview created for the new OCR AS Chemistry syllabus, to assist with planning and save time! 1 SOW is written for 1 teacher teaching all modules (the whole year) - this has 2018-19 dates on 1 SOW is written for 2 teachers co-teaching. It shows ONLY the foundations and organic section (the other teacher would be teaching the physical topics) 1 overview is written for the first term (Sept-Dec) and shows allocation of topics for 2 teachers co-teaching the AS in 1 year. I created and wrote this booklet and delivered a session (lasts around 45min-1 hour depending which yoga sequences and meditation you choose to do) to a cohort of stressed out trainee teachers and staff just before the Christmas break. The session was well received and had excellent feedback with several people saying they found it really helpful. The booklet starts with assessing your level of stress, looking at how you spend your week (divided into 30min sections) - this is a good opportunity to discuss and be able to visualise work-life balance. The booklet then takes you through many ideas for stress management techniques, with a couple of mini activities including a page introducing the concept of a gratitude journal and a 'meditation challenge'. At the end are some books, apps, journal articles and contacts in case people wish to find out more.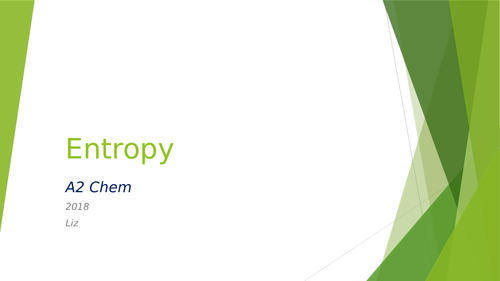 PowerPoints created for A2 OCR Chemistry - entropy and Gibbs for the energetics module.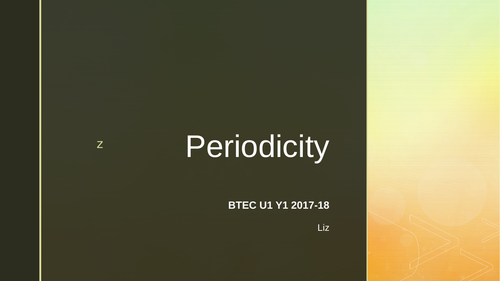 created for the new level 3 applied science BTEC new from 2016.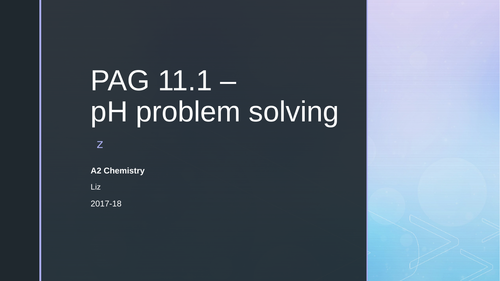 A PowerPoint created to help start the students off with PAG 11.1. Includes learning objectives, ideas to get the students thinking, what needs to be submitted and helps structure the lesson.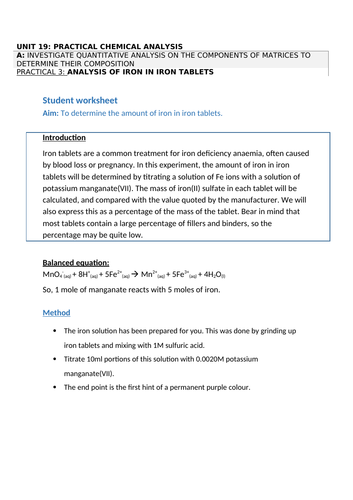 Student worksheet including introduction, method, space for them to record results, structured calculations and error analysis. Created for the new BTEC L3 spec, unit 19 Practical Chemical Analysis. Can also be used for A Level Chemistry, HNC or other analytical science courses.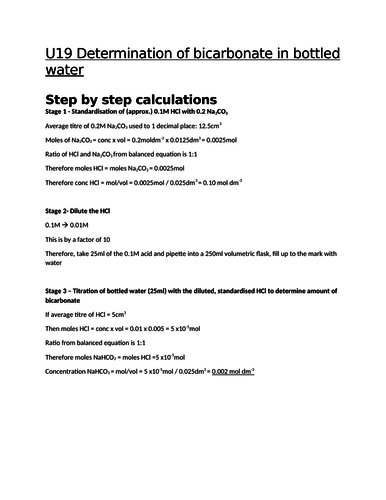 Attached are step-by-step calculations with equations, ratios, units etc which were created for the new unit 19 in the level 3 applied science course (new from 2016). The calculations are for the determination of bicarbonate in bottled water, the amount of copper in brass and the amount of iron in iron tablets. There are 3 stages to the bottled water practical, the end answer states the concentration of bicarbonate in water (tap water was used to save money!) in moles per decimetre cubed.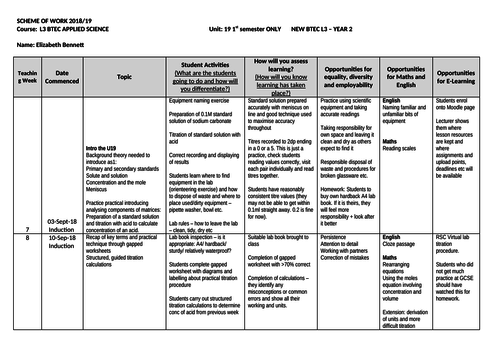 The first assignment's lessons planned out and timing of delivery of the other two. Written in a SOW format. Could be used as lesson plans (depending what you and your centre require). :-)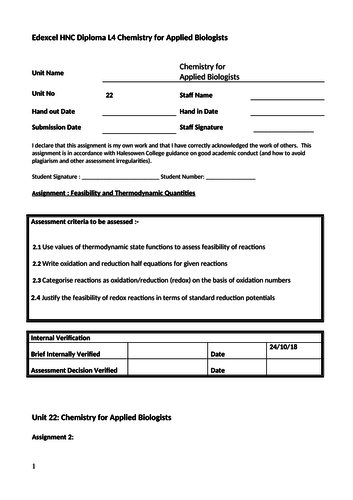 This bundle includes an assignment brief (created by me), lesson on thermodynamics and feasbility (can be easily adapted for what level/content you would like to teach) and answers to the last 4 assignment questions. This was created for a level 4 course where I taught chemistry to biology apprentices (ages 18+). The title of the unit was 'chemistry for applied biologists' and this is one of 4 assignments set in that unit. It could also be used for A2 Chemistry as there are some worked examples and practice questions on Gibbs free energy and 2 redox practicals which include half equations and observations.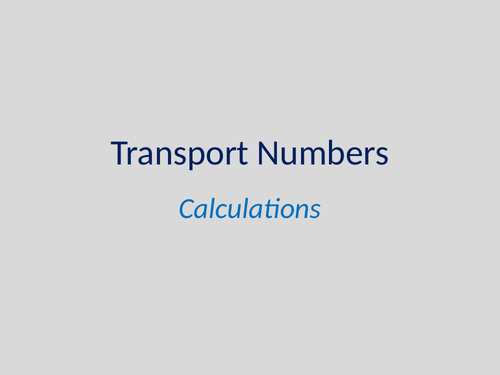 **A selection of short activities **consisting of: -short PowerPoint lesson on transport numbers -glossary of terms including key words and units for all electrochemistry (equivalent to what is covered in Year 1 and 2 at degree level in Chemistry) where students can fill in definitions -starter activity used to recap what was taught previously on molar conductivity, limiting molar conductivity, shapes of graphs for strong and weak electrolytes and intensive and extensive properties.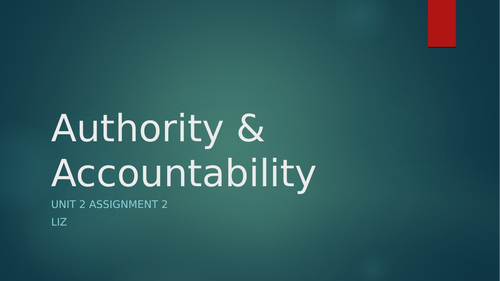 This contains a (relatively!) exciting PowerPoint lesson around what can be a boring and tedious topic - risk assessments and safety. It includes case studies and scandal, what can happen when we are not aware of the risks involved. This is suitable for any science course at any level I have also included a very short lesson on authority and accountability i.e. academic fraud, this is also suitable for any course at any level. It was initially created for the old BTEC level 3 applied science, but is not specific to this :)