51Uploads
8k+Views
598Downloads
Chemistry reources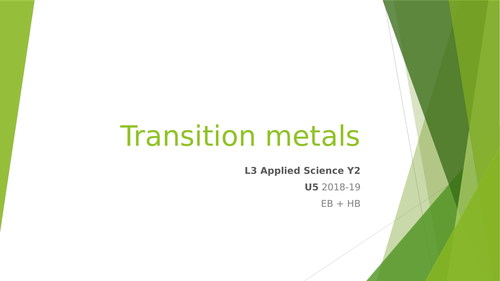 A lesson created on transition metals - can be used for either unit 1 or unit 5 new BTEC L3 Applied Science (Pearson, from 2016).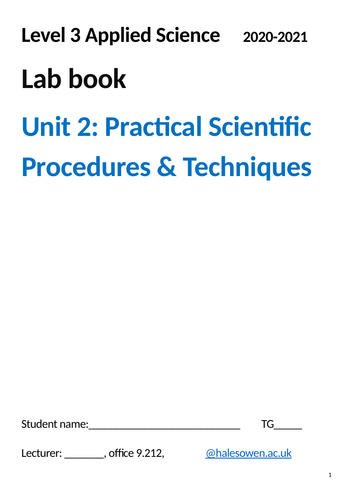 This is a lab book for unit 2 that will help students greatly once assignments are issued. Students can record their results in here during/after the practicals, either handwritten on a printed version or typed on an online copy. This saves loads of time with planning lessons :-) I hope that you find it helpful.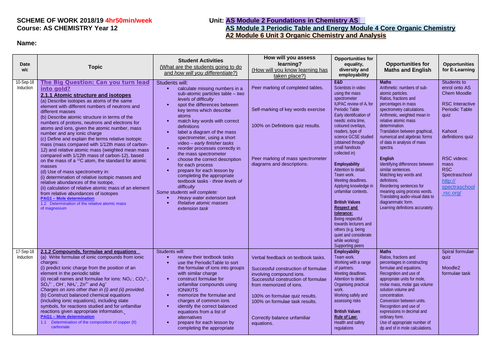 2x SOW + 1 overview created for the new OCR AS Chemistry syllabus, to assist with planning and save time! 1 SOW is written for 1 teacher teaching all modules (the whole year) - this has 2018-19 dates on 1 SOW is written for 2 teachers co-teaching. It shows ONLY the foundations and organic section (the other teacher would be teaching the physical topics) 1 overview is written for the first term (Sept-Dec) and shows allocation of topics for 2 teachers co-teaching the AS in 1 year.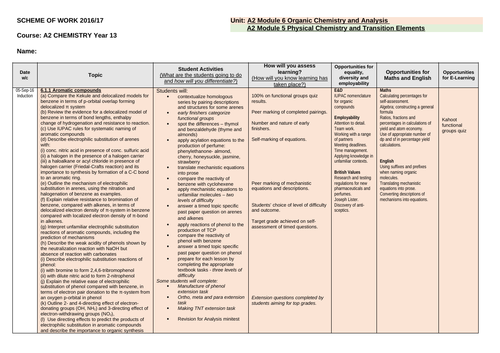 Schemes of work written for OCR A Chemistry Dates range from 2016-18 but can be easily changed. 1 SOW is for 1 teacher teaching the whole A2 (all modules) 1 SOW is for physical only (minus electrochem) which is for 1 teacher teaching 2 hours a week (co-taught) 1 SOW is for mixed modules for 1 teacher teaching 1 hour a week (co-taught)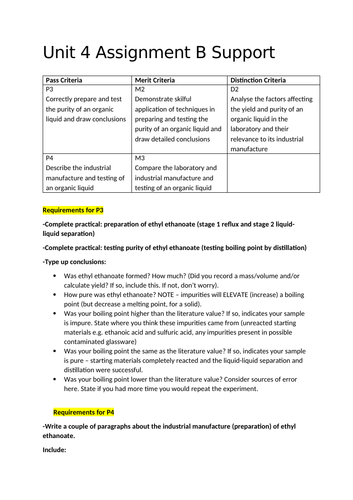 These sheets were created for a class that fell behind and were struggling with unit 4. 2 fool-proof sheets for B and C handy for when students need to finish asap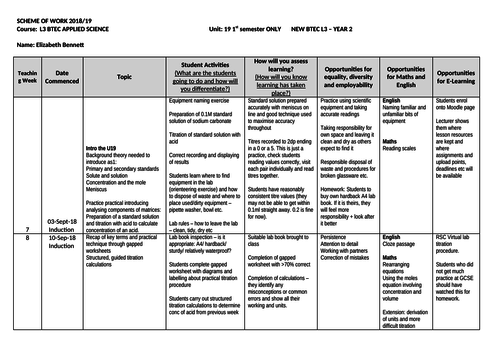 The first assignment's lessons planned out and timing of delivery of the other two. Written in a SOW format. Could be used as lesson plans (depending what you and your centre require). :-)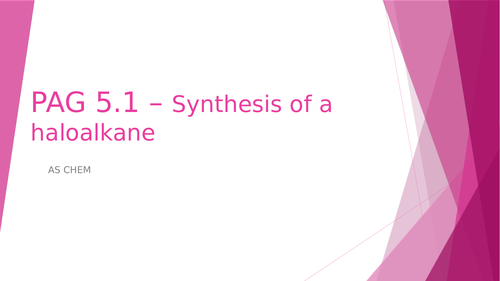 A PowerPoint created to introduce and structure the lesson for the OCR PAG 5.1 assessment. Includes necessary things that need to be submitted for this PAG along with helpful pointers for students.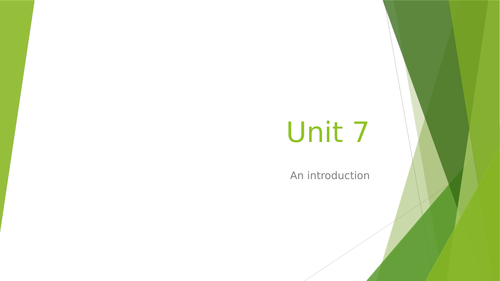 Attached is a full introductory lesson created for the new BTEC Unit 7: Contemporary Scientific Issues. It is activity based, with instructions and answers, a recent case study to get students started, points for discussion, a video on the case study, explanation of terms ethical, environmental, social and economic along with reliability and validity. Gets students thinking about reliability of sources, bias, etc. Homeworks during the first few months of teaching (and tutorial sessions, if you have these) could include watching documentaries on scientific issues to broaden student's knowledge of contemporary issues in general. You may wish to select these yourself (from Netflix, Youtube etc.) or ask the students to find 1 each for homework and bring to next lesson (to minimise your workload!) then you can decide which to watch as a class and use as a point for discussion etc.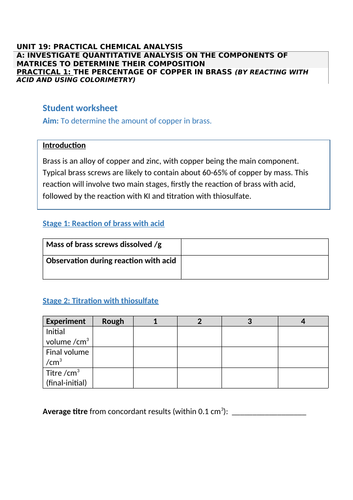 Includes: student worksheet with space to include results, readings and observations for each of the 3 stages, clearly labelled. 3 stage method, teacher and technician notes structured calculations and answers.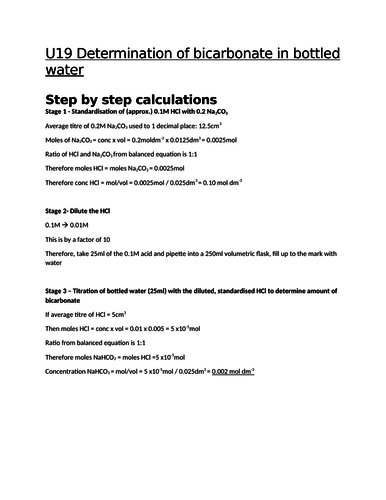 Attached are step-by-step calculations with equations, ratios, units etc which were created for the new unit 19 in the level 3 applied science course (new from 2016). The calculations are for the determination of bicarbonate in bottled water, the amount of copper in brass and the amount of iron in iron tablets. There are 3 stages to the bottled water practical, the end answer states the concentration of bicarbonate in water (tap water was used to save money!) in moles per decimetre cubed.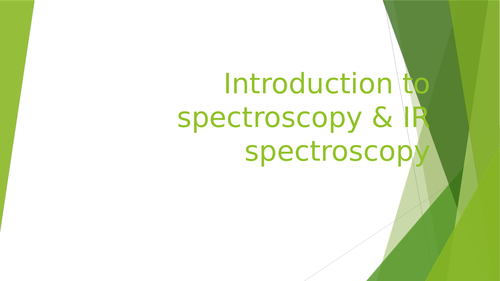 I created this lesson for the new unit 19 level 3 applied science, assignment B, spectroscopy. This lesson lasts about 1.5 hours including completion of activities and introduces the students to spectroscopy by recapping the electromagnetic spectrum (I have also included some points in the notes section of the powerpoint which you may wish to discuss). The data sheet I used with my students was the OCR A A Level Chemistry one (just what was handy in the lab) and the PowerPoint refers to worksheet A which is part of their assignment. This can be found on the Pearson website, along with answers.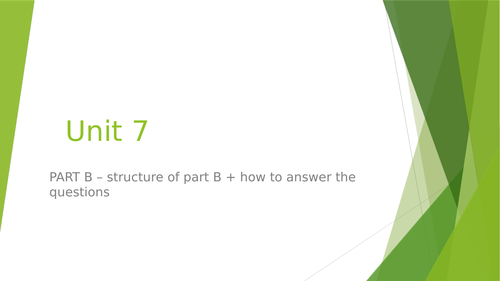 Attached is 2 double lessons (4 hours) worth of activities, lesson is interactive, student-led, exam-focused. Prior to this, students should choose a contemporary scientific issue of their choice - this can be from a magazine eg New Scientist or Chemistry Review etc. or from online. They can produce a little written piece introducing this if you wish them to. The teacher can then go through the PowerPoint regarding part B of the exam -this PowerPoint explains the structure of part B of the exam and describes what to include and how to structure your answers in order to achieve high marks. In some cases, ideas of how to start answers are given. Students should answer each of the questions (except the last one) for THEIR chosen contemporary issue (see peer assessment form for how to do this in presentation style. This can be done in a presentation format and communicated to the class, during the presentation, the presenter will be assessed by their classmates using the peer-assessment form attached. Many skills are addressed in this lesson(s), such as communication, critical thinking, analysis, detecting bias, independent research, ability to give and receive constructive criticism, drawing valid conclusions, making sensible judgements, simplifying complex issues and interpreting graphical and statistical data etc.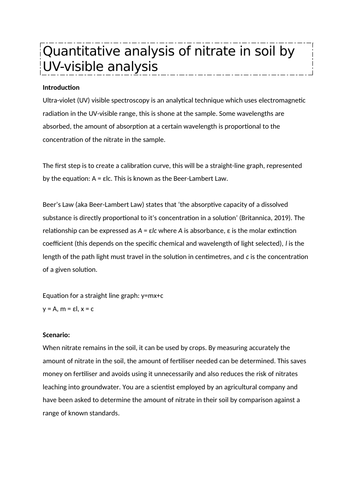 Attached is a full lesson 5 page worksheet containing a detailed step-by-step method (including how to use the UV-vis), introduction including theory on Beer's Law, space for students to tabulate and record their results, questions around the topic, answers and sample results. There are a couple of photographs (taken by me when I was trialling this) to help students visualise how things should look when they are carrying out the method. This can take around 1 hour - 2.5 hour lesson depending on equipment availability and how you wish to deliver it. :-) Please leave a review!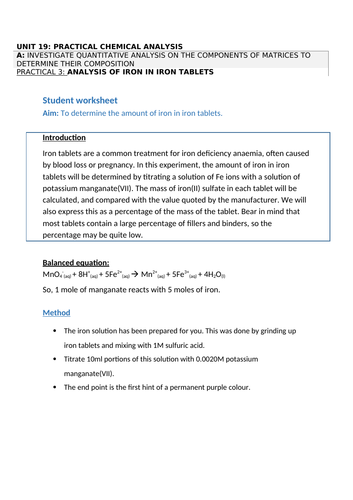 Student worksheet including introduction, method, space for them to record results, structured calculations and error analysis. Created for the new BTEC L3 spec, unit 19 Practical Chemical Analysis. Can also be used for A Level Chemistry, HNC or other analytical science courses.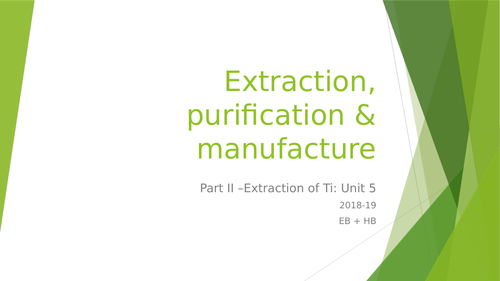 Around 3 hours worth of lesson(s). This was initially created for the new BTEC Applied Science U5 Chemistry: extraction, manufacture and purification of substances. However it can also be used for GCSE, metallurgy or similar science courses. It covers the extraction of these metals, energy requirements and disadvantages along with amphoteric behaviour of alumina.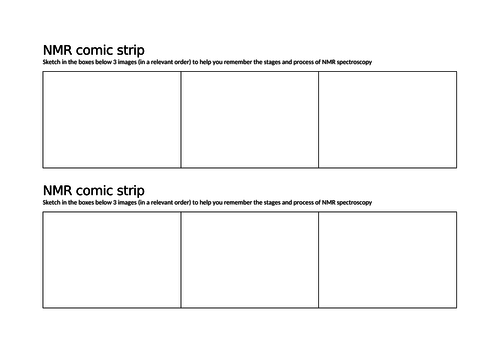 A powerpoint presentation (consisting of activities and answers and a link to the RSC video on NMR) and worksheet (comic strip to help students condense information and remember the main points of NMR) to assist teaching with the new L3 Applied Science Unit 19. This was created to help teach NMR spectroscopy. It has activities throughout and is step-by-step, I have simplified where possible. Has a couple of extension/early finishers activities in.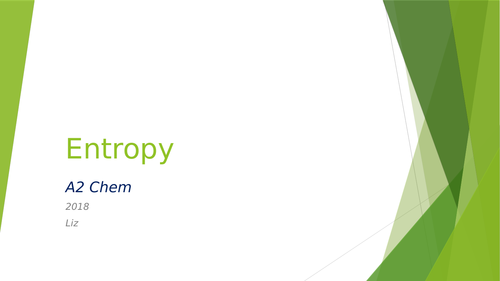 PowerPoints created for A2 OCR Chemistry - entropy and Gibbs for the energetics module. Watch me teach the basics of entropy here: https://www.youtube.com/watch?v=J23Ia9PAl2o&t=17s 'PhysChem with Liz' on YouTube This PowerPoint aims to help assist teachers with delivery of the first assignment and/or help students structure their work and decide what to include. Checklists are included for each criteria, breaking the pass, merit and distinction down into small, clear tasks. Useful websites: https://www.hse.gov.uk/legislation/index.htm https://www.hse.gov.uk/legislation/trace.htm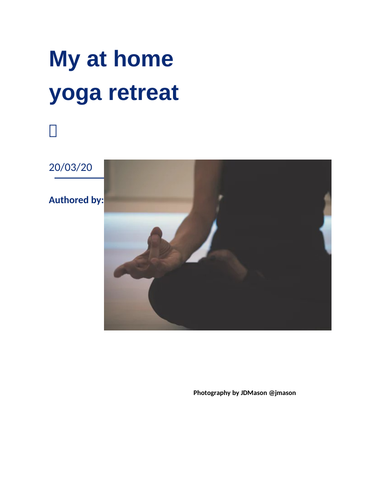 This is a booklet I've put together for anyone interested in doing a little 'at home virtual yoga retreat'! You can do it alone, with your children or partner, it's up to you. if you are new to yoga and/or meditation, you can check out my other resource 'Yoga, meditation and other stress management techniques' which may be good to start with I have included online guided yoga and meditation videos for each day (with a range of instructors, so you may find someone new you wish to subscribe to or in case you prefer some styles of teaching over others!). I have also given each day a theme and included some journalling prompts. Please let me know what you think in a review :) I will be updating the booklet as I continue adding to it, but wanted to get it uploaded asap for anyone looking for ideas of things they can do at home. Let's try and make the most of this time :) PS - I've also included a yoga/meditation calendar for May which is from 'YogaWithAdriene' (not made by me) x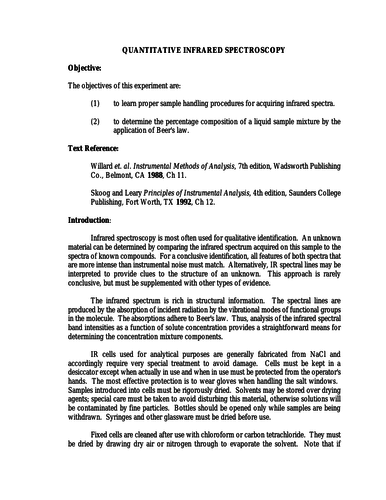 Some pointers and ideas to help you devise a method and practical for the new unit 19 applied science unit. This practical is one of the 4 options for assignment B. I know that the use of IR for quantitative analysis is uncommon, but it can be done. Find attached a journal article of a similar experiment and a short outline of a method (word doc). Journal is obviously not my own work, I have just uploaded these to help centres devise their own methods for this assignment. I hope this is helpful for you. Please take a look at my other resources :-)