Expert English
Teacher with 15+ years experience teaching English, drama, PSHE and history
92Uploads
27k+Views
32k+Downloads
Teacher with 15+ years experience teaching English, drama, PSHE and history

These three lessons focus on the skills needed to achieve a high pass grade on the new spec OCR English Literature GCSE. I focus on making the AOs explicit to pupils, so they understand how to structure their essays. I then move onto giving pupils specific areas of the novel to focus their attention on. This pack also comes with a quote bank I put together, filled with short quotes that can be easily embedded (AO1) into any essay, pulling up students' marks for writing in a critical style with quotations fully integrated. Finally, this pack also comes with quote revision for pupils and an accompanying worksheet. All quotes from this quiz are pulled from the three lessons (quote bank, extracts, slides, etc). If you liked my work, please rate it five stars. Thanks!

A PowerPoint guiding students through the historical context of The Great Gatsby. Includes videos, images, songs, quotes from the Great Gatsby and discussion point. This took me around 2 hours to teach using the materials in this resource. I cover: prohibition, the American dream, the roaring 20s and the new woman. These are linked back to the novel to explain how they are relevant to the novel.

This resource is aimed at teaching KS3 to identify and analyse the effects of enjambment and caesura. I use 'Hawk Roosting' and 'You and I' to teach this. You get x2 full lessons in this pack, fully scaffolded and accessible to middle to high ability KS3.

This unit of work contains around 25 lessons (five lessons per presentation), focusing on building pupils' ability to analyse language, structure, historical context and character. There is plenty of opportunity to read the full play as a class - I did and they really enjoyed it. The themes of this play would be more suited for higher ability pupils/older KS3. This comes fully resourced and with assessments.

This resource contains two whole lessons - The first focuses on using multi-clausal sentences, simple sentences and one word sentences. - The second focuses on using Peat sentencing, eg. some; others, statement: tell me why. Both have extended writing tasks, lots of images and lessons are colourful and engaging. They would be suitable for both KS3 and KS4.

This is a Powerpoint lesson differentiated for ESL/EAL/SEN students to teach them how to write similes step-by-step. Tried and tested. This lesson was originally designed for Chinese speakers learning English, so I left in some of the Chinese (it's minimal and easily deleted, or you can translate into your student's native language using google translate for some translanguaging!)

This fun Christmas grammar quiz is ideal for English class, where it could be used as a whole lesson quiz or as a 10 minute starter every day. It would also work well in tutor time. Included is a 99 page Powerpoint that has questions covering a range of grammar points, with explanations of answers included. The rounds are as followed: Correct the spelling: correct the spelling of Christmas words Add the punctuation: add the missing punctuation to Christmas lyrics with the songs included in the background of each slide Splice or no splice: a series of Christmas related questions in which the students have to identify whether the sentence includes a comma splice or is grammatically accurate. Example and explanation of comma splicing included. Semi-colons & Santas: write a semi-colon sentence about a series of celebrities dressed in Santa hats. Explanation of semi-colon use included. Ho ho ho or no no no: series of sentences that the students have to identify whether there is a grammar mistake and if so what mistake (no no no) or if there is no mistake present (ho ho ho). Common mistakes such as use of they're/their/there and possessive apostrophes are used here with explanations of the mistakes. There are a total of 50 questions included. You could do this in teams on paper or individually with whiteboards would also work well. Slides include timers and fast paced music to keep to a good timing. Fun, cute and Christmassy quiz that makes grammar fun!

This is a PPT lesson guiding you through teaching Question 1 letter writing for CIE IGCSE English as a First Language. It uses The Hunger Games as a text, looking at the Interview scene. Included is one full PPT (this took me around 3 hours to teach fully), a mock CIE assessment Q1 based on The Hunger Games, a planning sheet and an example insert annotated for the three bullet points.

Three lessons on the topic of informal letter writing. This was intended for CIE IGCSE English as a Second Language question 6, but could be used also with KS3. 1. Generating ideas - four different routes into coming up with ideas for letter writing (PPT) 2. Formal/informal language with a variety of activities and model answers (PPT) 3. Peer assessment (PPT) This also comes with a success criteria based on the CIE mark scheme.

This lesson focuses on the characterisation of Beatrice and Benedick with a focus on word level analysis. Suitable for the 2016/17 OCR English Literature New Specification. This is a Smart Doc file.

This pack includes a PowerPoint music genres quiz with eight rounds of different genres for pupils to guess. The first 20 second clips of songs are included within the presentation. Also included are pupil answer sheets and a teacher's answer sheet. The presentation is colourful, exciting and engaging. I chose a mixture of songs that I thought pupils would know and a couple of more challenging entries. I made this genre quiz to suit diverse classrooms with different 'cliques' of students and an array of musical tastes… hopefully something to appease everyone! Happy quizzing! Genres: pop emo hip hop cheesy classics world music classic rock Disney electronic & dance

This lesson contains a Powerpoint that analyses Sonnet 130 by Shakespeare. Detailed and comprehensive.

This resource contains a Powerpoint and a running race worksheet with teacher answers. You will first explain some common strategies for working out the meaning of new vocabulary with examples. Students will then have a group running race in which they apply the strategies they have learnt to new words. They will have to come to you for each question with a correct answer before being allowed to access the next question. The first team to complete the quiz wins. This is a tried and tested lesson which my students love. Engaging, fun and practical. Suitable for KS3 or KS4 English for any exam board. Especially suitable for CIE First Language English 0500 in which students will have to define new words.

This is a Powerpoint lesson, model paragraph and worksheets for The Snow Child by Angela Carter.

This 17 page booklet contains: - Modern Source A: article from the Mail on Sunday, upbeat tone, on the Queen's cousin coming out as gay and his new relationship - Pre-1914 Source B: three short letters by Oscar Wilde to his lover, accessible and full of language techniques - Both sources are annotated with talking points - Scaffolded tasks and guidance for Q1, Q2, Q3, Q4 - Exam style questions - An additional exam booklet with these texts in should you choose to use this as an assessment - PDF and editable Word Docs of both booklets

This booklet enables pupils to write a modern adaptation of Romeo and Juliet, scaffolding the process along the way. I encourage pupils to think about setting, costume and character, and how this might alter as we bring the play into a different era.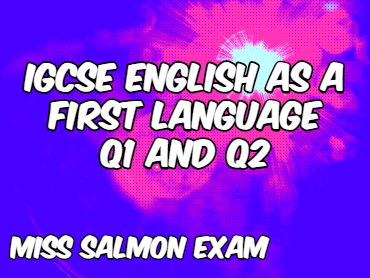 Three PowerPoints for CIE English as a First Language, guiding students through an assessment Q1 and Q2. Third PowerPoint is a review lesson, looking over common mistakes my students made. Hope it's of some use to any teachers out there as I know CIE First Language resources are spare on TES. Included is a feedback sheet, three powerpoints and the exam question paper, mark scheme & insert.

This SoW focuses on the skills needed for AQA English Language GCSE at KS3. My speech writing unit includes examples from Harvey Milk, Obama, Kennedy, MLK and Churchill. Pupils enjoyed the opportunity to write and deliver their own speeches. My classes rose to the challenge and were particularly enthused by the topic of equal marriage, which they handled with sensitivity, passion and intrigue. This scheme includes ten full lessons plus resources. Please note that this Unit is a discounted sample from my much larger unit on non-fiction writing available here: https://www.tes.com/teaching-resource/unit-of-work-non-fiction-writing-aqa-english-language-new-spec-2016-17-11476873

This 17 page booklet contains: - Pre-1914 Source A: "Ain't I a Woman?" by Sojourner Truth - speech about black women's rights in America - Modern Source B: "Supermodel Turned Spokesperson" on Tyra Banks. A humourous article packed full of language devices and interesting language on Tyra Banks deciding to 'speak up' for women's rights. - Both sources are annotated with talking points - Scaffolded tasks and guidance for Q1, Q2, Q3, Q4 - Exam style questions - An additional exam booklet with these texts in should you choose to use this as an assessment - PDF and editable Word Docs of both booklets

By the end of this lesson, pupils will be able to identify and analyse the effects of the following sentence types: Basic: Simple / Multi-clausal / Subordinate Clauses Advanced: Declarative / Interrogative / Exclamatory / Imperative This lesson comes with a worksheet and a full text. There are a total of 26 detailed slides, which not only look at being able to identify the sentence types but specifically at analysing the effect of them - something my pupils have found much harder to master. This new knowledge is then applied to an excerpt from Florence Nightingale's diary.