Social Science
A-Level AQA Psychology | A-Level AQA Sociology | BTEC Health and Social Care | KS3 RE (Buddhism) | EPQ
80Uploads
15k+Views
7k+Downloads
A-Level AQA Psychology | A-Level AQA Sociology | BTEC Health and Social Care | KS3 RE (Buddhism) | EPQ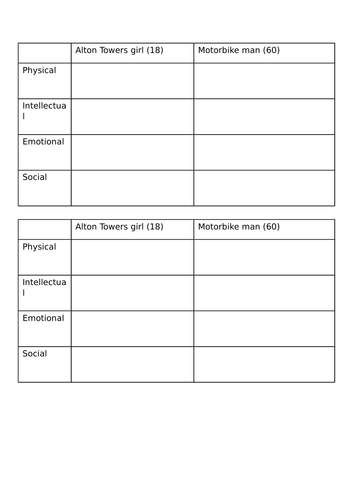 Includes 3 powerpoints for all of LA.B content. Appropriate and factual videos for most areas. Several real-life scenarios worksheets and activities to complete. 4 PC lesson research projects. Homework suggestions. LA.B case studies included and coursework preparation tasks. Component 1 bundle available LA.A and LA.B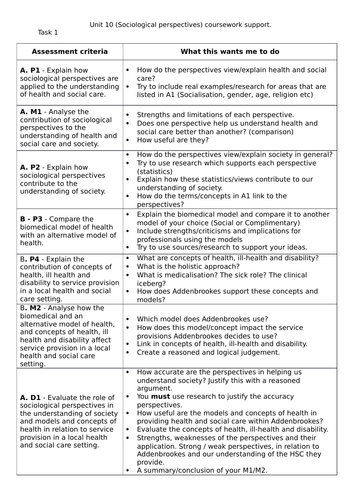 4 Powerpoints with various real-life application and tasks to support learning. Information is tailored towards gender, ethnicity and age which were our chosen social groups for the coursework. Additional sources and references in the notes with relevant pass criteria and specification match-up on every slide. If local to Addenbrookes Hospital, additional support is included. What's included: An Intro to Sociology Social Institutions Sociological Perspectives The Biomedical model and 2 alternatives Concepts of health… Contemporary links throughout. LA.C / task 2 guide as it's subjective to your local setting. Unit 10 guide - in student friendly language.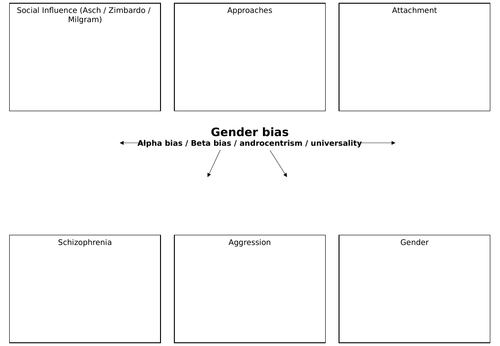 23 Revision Mats included. 1x Social Influence 1x Memory 1x Attachment 2x Approaches (Year 1 & 2) 1x Psychopathology 3x Research Methods (Year 1 & 2) . 1x biopsychology (Year 1 & 2) 2x comparison tables 6x IAD 2x Gender (optional topic) 1x Aggression (optional topic) 2x Schizophrenia (optional topic) Slide size is set to A3. easy to amend and ideal for revision.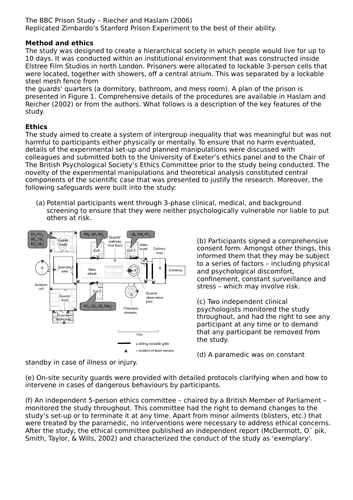 Updated for the new 2019 assessment. 4 powerpoints which cover all of LA.A, B3 (ethics) and all of LA.C Includes; Support and guidance for the external assessment. Links and wider reading in the notes. Various activities for engaging with contemporary research. Various links for students to use as research. U4 MOCK and Essay Structure Exemplar answers Pre-brief task.

15 interactive lessons for BTEC Tech Award Component 1, Learning Aim A. Includes; 15 lessons Homework Coursework guidance. Component 1 bundle available (LA.A and LA.B)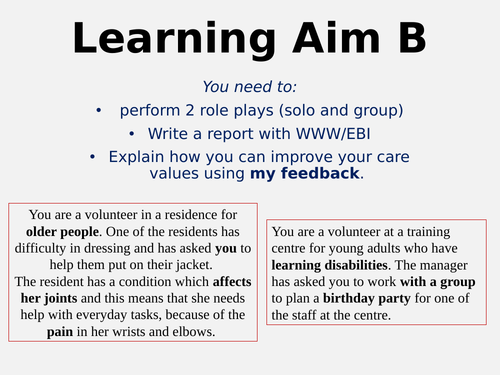 Various lesson which include worksheets and appropriate videos to demonstrate care values and discussion. Suggested role play script and the observer record sheet for ease.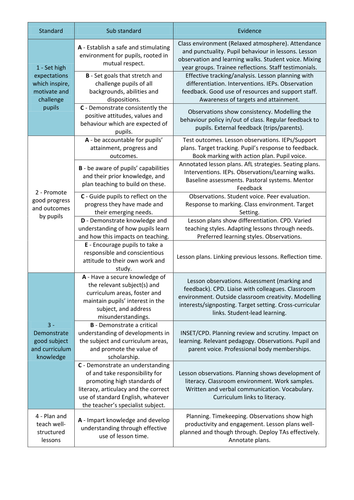 Ideal for trainees. It includes 9 standards, and their sub-standards with specific evidence for each. Made using several resources, mainly .gov but also provider specific. As I made this for myself, I have omitted 3d/e (early years specific) but both are easy to add in.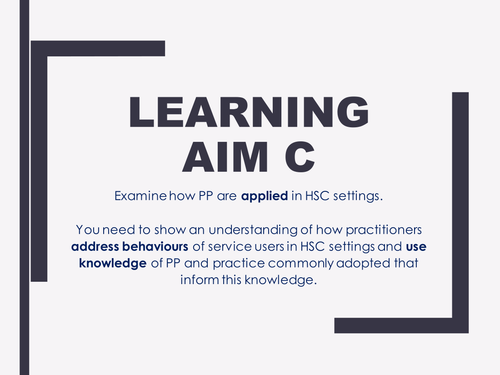 BTEC Level 3 - Health and Social Care - Unit 11 - Learning Aim C (Examine how PP are applied in HSC settings) and B (Examine how PP contribute tot he understanding of management and treatment in HSC) 1 powerpoint which contains all of the content for Learning Aim C. Video links in the notes. 6 powerpoints for learning aim B with notes, videos and worksheets included. Suitable for the old and new assignment brief (Oct, 2018)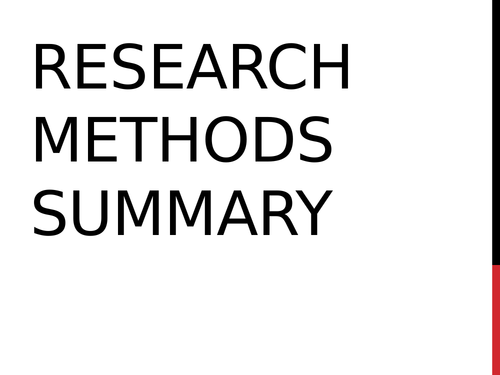 I've used at least 3 AQA approved textbooks to create this powerpoint which goes through AS and A2 Research Methods in a concise and colourful way. Information is clearly displayed in charts, diagrams or imagery. I would use this as a revision tool or introduction to RM. The specification has been followed. Includes 22 slides, a large mindmap image, a large comparison table of all experiment types (including self report and observation) and 2 infographics. Price reflects time and effort involved in creating. Sorry!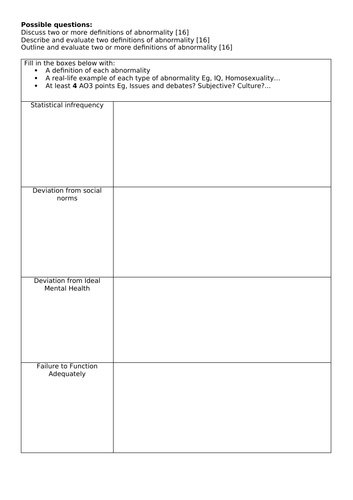 10 lessons (full topic) for Psychopathology which includes activities, videos, wider reading and exam practice. 1x abnormalities 3x Depression (Characteristics, explanations, treatment) 3x Phobias (Characteristics, explanations, treatment) 3x OCD (Characteristics, explanations, treatment)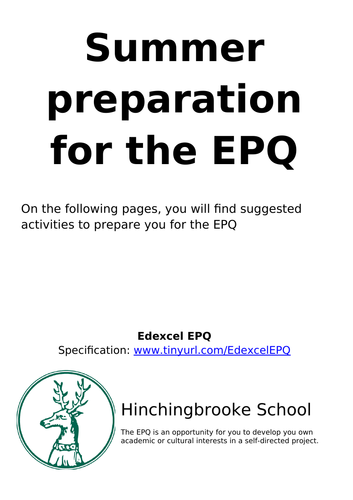 This was created for the Edexcel EPQ from scratch, however can easily be adapted for AQA. Includes; EPQ 1 year plan/calendar. Handbook for students. 'Role of the Supervisor' guidance Taster lesson for Y11 or Y12 Summer transition work. For all of this, plus the taught lessons go here --> (https://www.tes.com/teaching-resource/l3-extended-project-qualification-whole-course-11962375)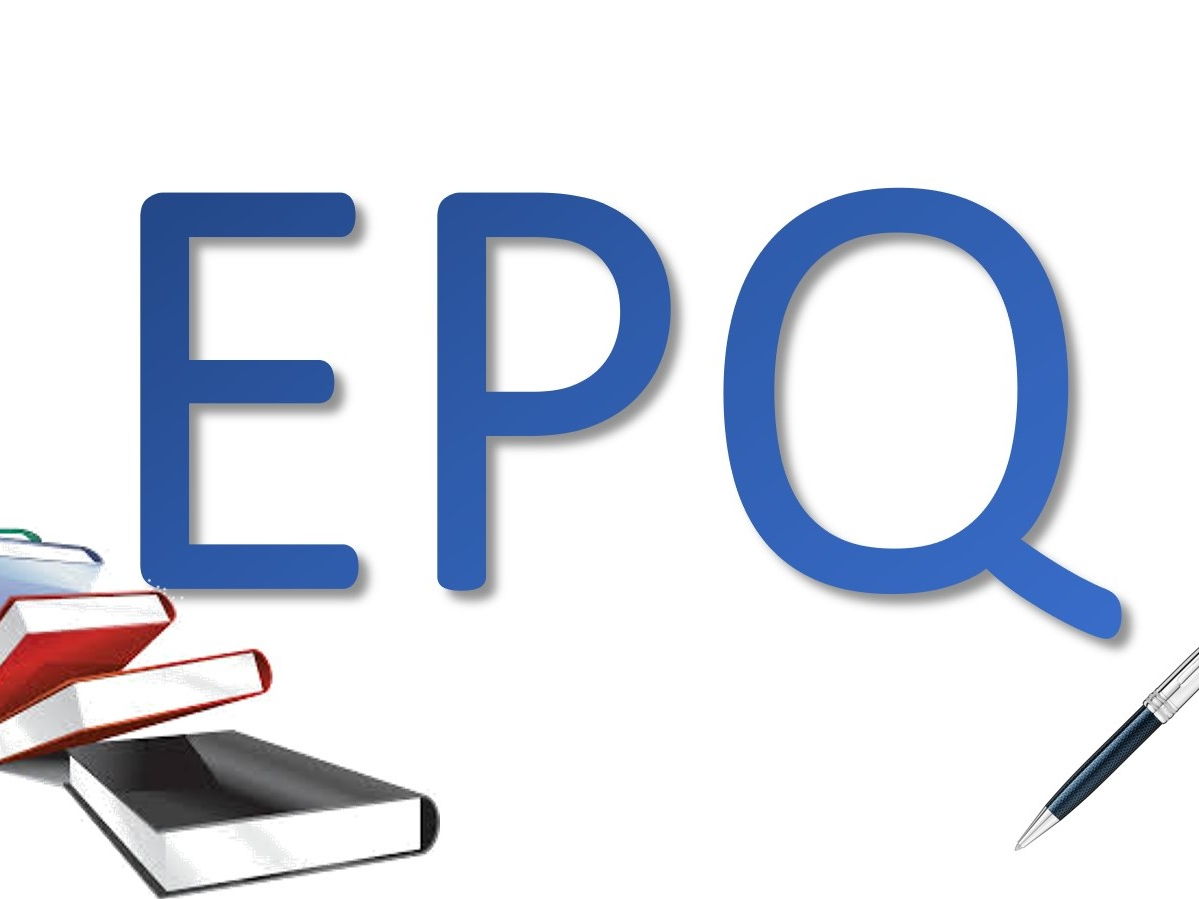 EPQ / Extended Project whole course. 19 lessons to prepare students to conduct their Project Research including exemplars, concise guidance and activities. Year calendar for students and supervisors Handbooks for students Supervisor role Taster lesson and resources Summer preparation. Structure for EPQ projects. Originally created for the Edexcel specification but applicable to AQA.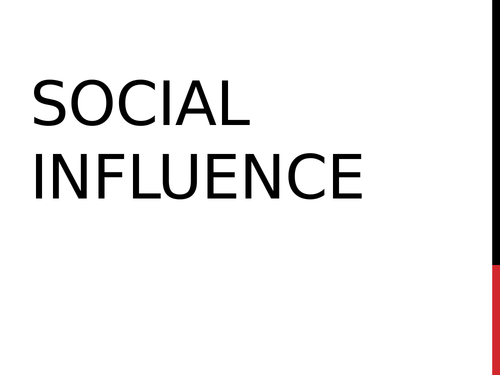 Powerpoint. 20 slides. Includes everything they need to know for the Social Influence Unit, ideal for revision as each slide nicely summarises each section of the module with colourful graphics, and a clear evaluation is given at the end of each sub-section. Specification is clear throughout with links to videos and articles to support.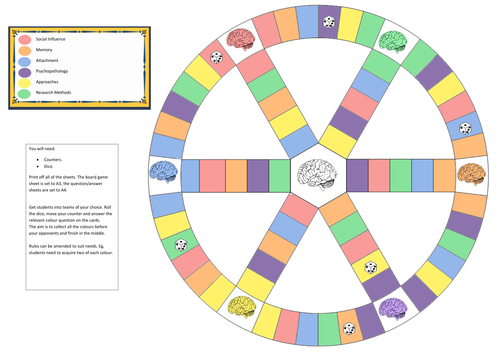 You will need: A printer, counters and dice. Included is the game board (A3) 18 Q&A cards and 6 blank Q&A cards (12 per A4) Cut out the Question cards and stick the answers to the back. This only covers the topics in Year 1 (Social Influence, Memory, Attachment, Approaches, Psychopathology and Research Methods) but the cards are easy to amend for Year 1/2. This is a good revision or end of year activity - Get students into teams of your choice. Roll the dice, move your counter and answer the relevant colour question on the cards. The aim is to collect all the colours before your opponents and finish in the middle.

Updated version. Initially made for my own students to help with revision - it's not designed to be delivered but for students to use and go through themselves. 49 slides include: Exam and assessment information. Various revision techniques for all learning styles. Various note-taking techniques (hows and whys) Essay structure (how to understand a mark scheme, how to get an A, how to write strong AO3) Wider reading (websites, and twitter provided) How to deal with stress. How to deal with procrastination.

Complete Learning Aim A and B. Interactive lessons with the aim to reach Distinction.

Includes 13 lessons of all approaches including: Intro to course Origins. Behavioural x3 Cognitive Biological Humanism x3 Psychodynamic x3 Detailed additional notes and links in the notes section of each slide.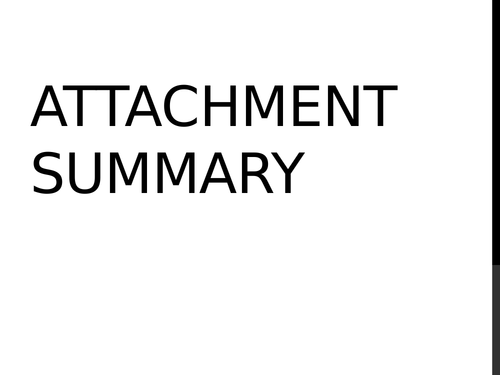 Powerpoint. 16 slides. Includes everything they need to know for the Attachment Unit, ideal for revision as each slide nicely summarises each section of the module with colourful graphics.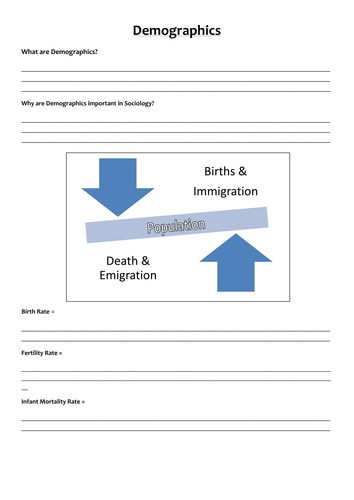 Designed to be completed by students independently. The workbook was compiled from various sources thus no charge.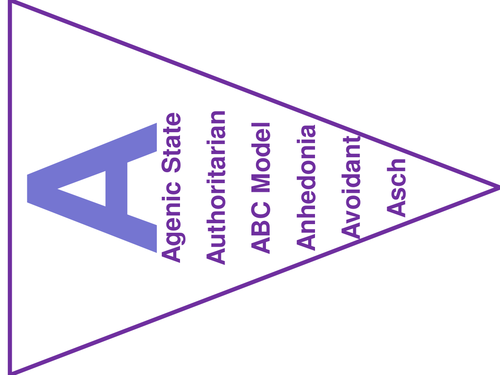 Perfect for any classroom. Print onto plain, patterned or coloured paper. Easy to edit for any spec - I've tried to choose common words but feel free to add or amend.